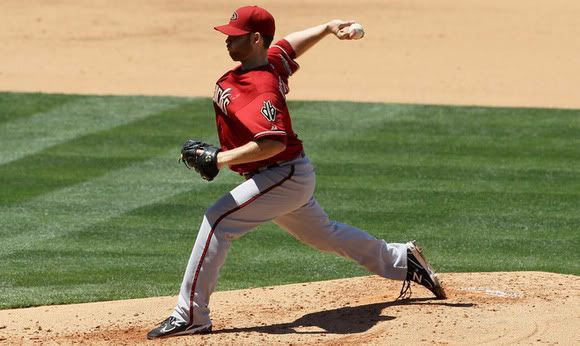 US Presswire
Right-hander Ian Kennedy has become the ace of the Arizona Diamondbacks' pitching staff.
Ian Kennedy's first career collegiate start came on the road against Long Beach State's Jered Weaver, who went on to win college baseball's top honors later that year (2004) as the Golden Spikes award-winner.
He held his own as a 19-year-old true freshman, and he held his own pretty much every Friday for the next three years as a Trojan, finishing third on the school's all-time strikeouts list and earning 24 career wins.
Kennedy was selected 21st overall by the New York Yankees in the June 2006 draft after his junior year and agreed to a deal with a $2.25 million signing bonus later that year. By September 2007, he was up in the big leagues for the Yanks. He had two more stints in the minors over the next two years but has now firmly established himself as a dominant major leaguer.
In a weekly USC Report feature, we take a look at Kennedy's collegiate career, his pro resume thus far and what's to come from the 26-year-old right-hander:
College
Kennedy was drafted out of La Quinta High by the St. Louis Cardinals in 2006 but chose not to sign. His advisor then was Scott Boras -- still his current agent. Eight months after that selection he made his USC debut against Weaver and Long Beach State, not earning a decision in an eventual 3-1 Trojan loss.
He kept his ERA under 3 that first year, finishing at 7-2 and 2.91. But his sophomore season was where he really shined, earning consensus All-American honors after going 12-2 with a 2.54 ERA. He led the Trojans to a first-round NCAA regional win over Long Beach.
Come the start of the next season, Kennedy already had his picture up at Dedeaux Field among USC's all-time pitching greats like Randy Johnson and Barry Zito. Expectations were at an all-time high, but they weren't necessarily met. The 6-1, 195-pound Kennedy struggled some that final year, going just 5-7 with a 3.90 ERA in Mike Gillespie's disappointing final year.
Pro
#31 SP
Arizona Diamondbacks
2011 STATS
Still, his cumulative college numbers were enough to get him drafted in the first round and signed for a well above-slot figure, earning roughly $750,000 more than a typical 21st overall pick would get.
He didn't delay signing too much and agreed to the deal in mid-August, pitching a few innings in Short-Season ball before shutting it down for the year. He started 2007 in A ball and then quickly moved up levels every other month or so, earning his first big-league promotion for a September 1 spot start in place of Mike Mussina.
He won that game and pitched two more solid starts later that month before being left off the Yankees' postseason roster. He started 2008 in the rotation but quickly fell out of favor with an ERA approaching 9 and was sent down to the minors. Kennedy was then essentially shuffled back and forth between AAA-Trenton and the Yanks over the next year and a half.
In December 2009, he was the key piece going to the Diamondbacks in a blockbuster deal that sent Curtis Granderson to New York and Max Scherzer and Austin Jackson to Detroit, and he stayed in Arizona's rotation for the duration of the 2010 season.
In spring 2011, new manager Kirk Gibson named Kennedy his ace, and the USC product has not disappointed. Seven of his 10 starts so far have been so-called quality starts, and he earned wins in two of the three that weren't. His WHIP -- walks and hits, combined, per inning pitched -- is among the league's best, and his walk ratio is at a career-best.
Future
In what surely counts as a sizable surprise, Kennedy and Arizona's second starter Daniel Hudson are almost single-handedly keeping the Diamondbacks afloat through almost two months of play in the NL West.
As of this writing, Arizona's at exactly .500 with 23 wins and 23 losses. Last year the Diamondbacks barely missed out on 100 losses, going 65-97 as the third-worst team in the majors.
Kennedy is under team control for the next four seasons, as his arbitration years begin in 2012. He's making only $423,000 this year, not much over the league minimum, but that number will undoubtedly go up considerably next year.
Don't be surprised if Arizona general manager Kevin Towers attempts to lock up Kennedy with a long-term deal at some point this year.