Each week leading up to spring training, Mark Saxon breaks down a big question facing the Angels heading into camp.
Who knows, they might have been diversionary tactics all along.
Just when everyone thought the Angels were going to put their efforts into fixing the offense, which tumbled considerably in 2010, they instead poured their money into relief. The team's only moves of the winter, thus far, have been adding left-handed relievers Scott Downs and Hisanori Takahashi.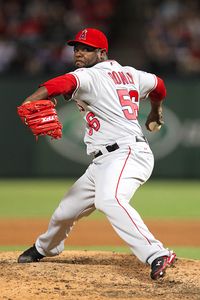 Matthew Emmons/US Presswire
Fernando Rodney is probably the most likely pitcher to win the job leaving spring training.
Not exactly what everyone predicted in November.
And after committing $23 million over the next three seasons, the team still doesn't have a closer -- unless, of course, you think Fernando Rodney is worthy of the title. Apparently, manager Mike Scioscia doesn't. He said last month that he still doesn't know who his save specialist will be.
This kind of uncertainty entering spring training is new ground for Scioscia, who has been lucky enough to rely on stifling relief pitching most years. In his 11-year tenure with the Angels, Scioscia has had a relatively smooth transition of closers, from Troy Percival to Francisco Rodriguez to Brian Fuentes.
Now the best he can say is that this group has plenty of raw stuff.
"I think with the power arms that we have in the back end of our 'pen, we're going to have a closer that is going to emerge," Scioscia said.
Until then, it's all a fog of closer possibilities. You can't quibble with Scioscia in one regard. The Angels don't lack for crisp fastballs. They finished 2010 with three of the 18 hardest-throwing relievers in baseball, according to Fangraphs, with rookie Jordan Walden the second-hardest thrower in baseball behind Detroit's Joel Zumaya.
Walden's fastball topped out at 102 mph and averaged 98.7 mph, while Rodney and Kevin Jepsen each averaged better than 95 mph.
So, who will it be? Rodney probably is the most likely pitcher to win the job leaving spring training, mostly because he's the only one of the three who has ever done it. Rodney has managed to save 64 games over the past three seasons, but his results after the Angels traded Fuentes to the Minnesota Twins last August left a lot of Angels fans nervous. He had a 5.65 ERA in the final month and gave up 21 hits in 14 innings.
"At the beginning of the season last year, he was lights out," Scioscia said. "He had a tough last month."
Walden's talent suggests he could one day close games, but there is a reason he didn't crack any top 50 prospect lists before last season. Walden, 23, struggled at Double-A Arkansas two seasons ago, eking out a 5.25 ERA as a starter. The Angels converted him to full-time relief the next season. He loved it and it showed. He steamed steadily through the minor leagues before spending the last month in Anaheim.
Walden pitched well in 15 innings last year, striking out 23 and walking just seven. But 15 innings is 15 innings. Scioscia has tended to favor talent over experience in making bullpen decisions, but Walden probably needs at least a few more months of game experience to warrant a full-time look.
Jepsen, 26, might be the compromise candidate, but he's going into his third full season and has just one career save. Clearly, Scioscia hasn't felt comfortable giving him the ball in the ninth inning with a narrow late lead.
This team won't lack for possibilities in the sixth, seventh and eighth innings. The new wrinkle is that some of them specialize in getting left-handed hitters out.
The Angels lost four free agents after the 2009 season. While most people expected John Lackey and Chone Figgins to be the most painful departures, the two that might have hurt most were Vladimir Guerrero and Darren Oliver, both of whom went to Texas and helped the Rangers reach the World Series.
The Angels didn't have a left-handed reliever last year, a hole so glaring they patched it twice. The loss of Oliver wouldn't have been as glaring if Scot Shields, who used to be even tougher on lefties than righties, hadn't struggled so badly. With two lefties, the Angels now have the option of using Takahashi in the rotation if Scott Kazmir continues his downward spiral.
"I think this gives us some important balance that we haven't had in our bullpen," Scioscia said when the team acquired Downs.
The Angels might have found a measure of balance in one area of their team, but will it be enough to warrant a winter's worth of focus?