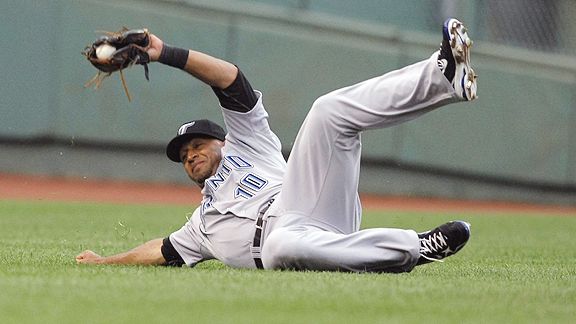 David Butler II/US Presswire
New Angel Vernon Wells said he'll take fly balls in left and center during spring training, but where does he fit best?
Each week leading up to spring training, Mark Saxon breaks down a big question facing the Angels heading into camp.
Angels manager Mike Scioscia thinks his 2011 outfield could be as good as any in the past quarter century.
Scioscia thinks you have to go back to the speedy St. Louis Cardinals of the 1980s -- with Vince Coleman, Willie McGee and Andy Van Slyke -- to find a group capable of catching and throwing the ball this well.
I dug that comparison, mostly because I was a 15-year-old suburban St. Louis kid in 1985. Willie McGee was my guy.
Is it hyperbole? Probably, but it might be fitting that Scioscia invoked baseball history, because last year's Angels outfield was historically awful. It became a sore subject for fans, pitchers, coaches and, especially, one keenly interested observer.
"I'm not trying to be disrespectful to any players, but we really had a lot of problems in right field and left field last year," Angels owner Arte Moreno said recently. "There were balls falling short, over their heads, in the gaps … Torii [Hunter] was running everywhere and, to be a good hitter, you've got to have your legs."
The ultimate zone rating data -- which seems to be as good as any defensive measure -- suggest that Juan Rivera (minus 4.9) was well below average as a left fielder, Hunter (minus 3.8) was well below average as a center fielder and Bobby Abreu (minus 6.2) was a borderline disaster in right.
Now, Rivera's been shipped north of the border, Abreu is a designated hitter and Hunter has moved into a corner, where he won't have to run so much. Plus, another ex-center fielder, Vernon Wells, will be in left field and young Peter Bourjos -- if he can hit well enough to stay in the lineup -- could be a dazzling center fielder. He is among the three or four fastest players in the American League.
Wells said he'll take fly balls in left and center during spring training, but the Angels are a better-fielding team with Wells, 32, tucked safely in left.
Jered Weaver led baseball in strikeouts, pitched more than 224 innings and had a 1.07 WHIP last year, but he went just 13-12.
He might be the happiest Angel this spring and not just because he's about to sign the richest contract of his life. Weaver, one of baseball's best fly ball pitchers, could scarcely contain his frustration at the Angels' defense at times last year. If he pitches like he did last year, he could easily go 18-9 or so strictly on the defensive upgrade.
Judging by their dearth of offseason moves, winning low-scoring games might be this team's best course to get back in AL West contention.
Head-to-head games against the Texas Rangers highlighted the Angels' aging, leaky defense. Texas was younger, more athletic and less gaffe-prone.
The infield was less problematic last year, but might also be better in 2011. The Angels could finally have the defense to support their strong pitching staff.
The Angels' defensive look could hinge, along with other things, on Maicer Izturis' health. That hasn't been a good investment in recent years. He's been on the disabled list 10 times since the start of the 2005 season.
Among a trio vying for third-base at-bats, Izturis easily is the best fielder. He's also a far better fielder than Howie Kendrick at second base and could give shortstop Erick Aybar a run for his money. If Izturis is leading off and playing third base, the Angels are a better team than with either Alberto Callaspo or Brandon Wood in the lineup.
The Angels also get Kendry Morales back, good news on several fronts. Depending on his mobility eight months after surgery to repair a broken left ankle, he'll improve the right side of the infield. The Angels had a revolving door of first basemen converted from other positions in 2010 and few of them had much idea what they were doing. Before the injury, Morales had exceeded expectations and become one of the best first basemen in the league. He might have the best arm of any first baseman in the game, though that rarely comes into play.
Kendrick has turned into a better second baseman than most people thought he'd be and Aybar is among the top five shortstops in the American League. Both players regressed defensively in 2010, part of the Angels' overall sloppiness.
The Angels gave their fans scant reason to hope again this spring, but they can at least expect more alert play in the field.