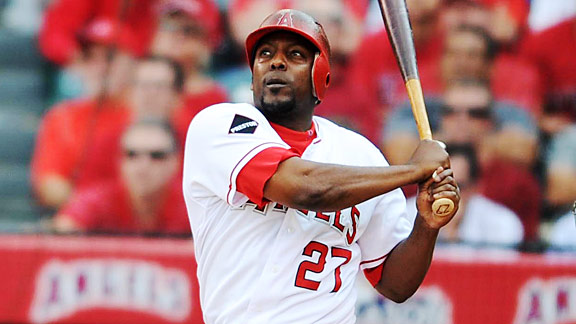 Christopher Hanewinckel / US Presswire
Vladimir Guerrero put up startling numbers in his first season as an Angel.
Vladimir Guerrero's arrival with the Angels in 2004 wasn't exactly eye-popping. His first few swings in the batting cage in Tempe, Ariz., that spring were "worthy of Mario Mendoza," according to the Los Angeles Times.
That would be the last time such phrases were uttered around Anaheim for the next five years. Guerrero, the centerpiece of owner Arte Moreno's $146-million spending spree the previous winter, lived up to all of the Angels' expectations and more. The numbers he put up were startling, particularly by the standards of the anemic 2011 Angels offense.
Guerrero batted .337 with 39 home runs and 126 RBIs to win the MVP easily. He was the first Angel to win the award in 25 years, since Don Baylor did it after the 1979 season.
He spent eight seasons with the Montreal Expos, but suddenly, the country knew all about Guerrero's exploits, and he escaped the wide shadow cast by Barry Bonds in the National League.
What set Guerrero apart in his prime was his ability to hit just about any pitch anywhere. After seeing him for a few months, fellow Angels hitters marveled at his ability to hit bad balls. He could hit a curveball outside and inches off the plate out of the park for a home run. More than once, he hit a ball that bounced for a base hit. Outfielders played him with their heels practically touching the warning track, so he picked up plenty of bloop hits.
Even his outs were impressive: He once knocked over a second baseman with a line-drive that the guy caught.
That 2004 season, which also signaled the arrivals of Bartolo Colon, Kelvim Escobar and Jose Guillen, was all about Guerrero in his prime. He was 28 (though, his birth certificate later showed, he was actually 29).
It's not as if the rest of Guerrero's stay in Anaheim would be a disappointment. He would finish third in MVP balloting in two of the next three seasons. But in 2004, everything he did was fresh to the Angels, who had barely glimpsed his talents in Montreal.
"Sometimes, when a player gets a lot of hype, you don't know what's going to happen when he gets on the field," Angels manager Mike Scioscia said then. "It was evident that Vlad was a very special player."
When was the last time an Angels hitter put the team on his back and carried it to the playoffs? There's no doubt that's what Guerrero did that year, bashing six home runs and hitting .536 over the final seven games to help the Angels overtake the Oakland A's. They would be swept out of the playoffs that year by the Boston Red Sox, who, of course, went on to win the World Series.
That was Guerrero's first trip to the playoffs.
"I went to the post-season for the first time in my life and it left a taste in my mouth that I want to have every single year," Guerrero said.
Unless the Baltimore Orioles suddenly heat up or Guerrero's career goes on longer than most people expect, he will never win a World Series. But he looks like a sure-bet Hall of Famer. Who knows, maybe he'll even go in as an Angel.
This story is part of an occasional series of Angels Moments which, when it's complete, will -- we hope -- add up to 50. The Angels are celebrating their 50th anniversary this season. These are not intended to be an exhaustive list, but simply an assembly of scenes and anecdotes that are part of the team's colorful past.