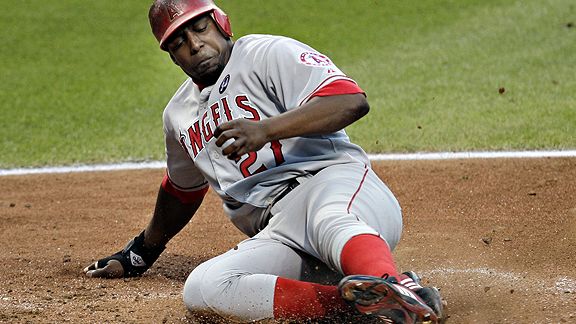 AP Photo/Tony Dejak
Vladimir Guerrero was a cog in the all-.300 lineup the Angels sent out Aug. 18, 2009.
The Angels were halfway through their 5-4 win over the Cleveland Indians when hitting coach Mickey Hatcher glanced up at the Progressive Field scoreboard and noticed something unusual. There was a '.3' to the right of everybody's name.
Hatcher sent a clubhouse attendant scurrying to find a camera and take a picture of the scoreboard, a snapshot that has become famous around the Angels -- particularly as they have struggled to score runs the past two seasons.
The date was Aug. 18, 2009, and it was the first time since the pennant-winning 1934 Detroit Tigers of Hank Greenberg and Charlie Gehringer that a team had gone that deep into a season with a lineup full of .300 hitters (each of whom had at least 200 at-bats).
Angels manager Mike Scioscia had had more powerful lineups (eg., 2000, 2004). He'd had faster lineups (most years). But he has never had a deeper lineup since he arrived 12 seasons ago.
That offense "might have been rolling as well as it ever has here," Scioscia told the Orange County Register. In the end, the Angels would set club records in batting average (.285), runs (883), average with runners in scoring position (.297) and hits (1,604). It would steamroll the Boston Red Sox in the playoffs, but then lose to the eventual world-champion New York Yankees in six games.
Since that season, Scioscia and Hatcher have pined for the days when they could post a lineup free of holes. It's not hard to figure out what happened: attrition.
Of the nine guys in that lineup, five have been missing since at least January: Chone Figgins (.308 at the time) signed as a free agent with the Seattle Mariners that winter; Juan Rivera (.310) and Mike Napoli (.300) were traded to the Toronto Blue Jays for Vernon Wells five months ago; Vladimir Guerrero (.313) moved on to Texas and Baltimore via free agency; and Kendrys Morales (.303) broke his leg last May 29.
After the Angels' game Sunday vs. the New York Mets, their lineup featured one .300 hitter: Howie Kendrick (.301). It had one guy, Jeff Mathis, batting lower than .200 and three, including Torii Hunter and Wells, hitting beneath .235. Absent power, the Angels rely on a continual application of offensive pressure, a force they've lacked since the start of 2010.
How long ago that August day in Cleveland now seems.
This story is part of an occasional series of Angels Moments which, when it's complete, will -- we hope -- add up to 50. The Angels are celebrating their 50th anniversary this season. This list is not intended to be exhaustive, but simply an assembly of scenes and anecdotes that are part of the team's colorful past.