In a way, Ervin Santana was the last Angels pitcher you would have expected to throw a no-hitter this season. In a way, he was the first.
Compared to the dominance of Jered Weaver or even the steady professionalism of Dan Haren, Santana has had a forgettable season up to now. He leads the Angels with eight losses.
But you could see him coming on in the last couple months, working into his stuff and gaining confidence as he piled up good starts. He had allowed more than three earned runs just once since the end of May.
For weeks, Angels manager Mike Scioscia has been saying the same thing about Santana: "Ervin has been throwing the ball much better than his numbers indicate."
The numbers finally caught up on a nearly perfect afternoon in Cleveland, where Santana no-hit the Indians in a 3-1 Angels win. Center fielder Peter Bourjos squeezed a lazy fly ball hit by Michael Brantley for the final out, giving Santana his first career win against the Indians in the most dominant fashion.
Santana (6-8) needed only 105 pitches to get through nine innings, with the Indians looking uncomfortable against his fastball and lunging to try to make contact with his slider.
Before Wednesday, Progressive Field wasn't Santana's favorite place to pitch. His major league career had started on shaky footing in the very same ballpark, where in 2005 the first four Indians to face Santana hit collectively for the cycle. The Angels had called up Santana from Double-A to make that May 17 start and they had a plane ticket back to the minors waiting for him when he returned to the clubhouse.
Wednesday's was the eighth individual no-hitter in Angels history, the first since Mike Witt's perfect game at the end of the 1984 season. Santana joins Witt, Bo Belinsky, Clyde Wright and Nolan Ryan (four times) as Angels who have thrown no-hitters.
"I was on the same page with [catcher Bobby] Wilson," Santana told Jose Mota on the Angels' TV broadcast Wednesday. "We were hitting my spots and every time and I was on top of the count."
Even though Weaver and Haren have dominant secondary pitches, Santana has the best raw stuff in the Angels' rotation. In 2008, he finished second in the American League with 214 strikeouts. He pitches with a fastball in the mid-90s and his slider can be among the most devastating in the league. He used it to strike out a season-high 10 batters Wednesday. He allowed only two baserunners, one on a walk and one on an error.
Cleveland's run scored in the first inning, after an error by shortstop Erick Aybar, a stolen base, a fielder's choice groundout and a wild pitch. After that, Santana went 22 batters without allowing a runner. His walk came in the eighth inning.
Santana's hardest pitch, 96 mph, came in the eighth inning. On a pleasant day, he seemed to gain strength, perhaps fueled by adrenaline. He told Mota he started sensing a no-hitter was possible before the eighth inning, when "things got more complicated."
Santana typically throws only two pitches, a fastball and a slider. He has toyed with a split-finger pitch this season. His performance adds emphasis to a remarkable season by Angels starting pitchers, who often work deep into games with scant run support.
Weaver (14-4, 1.79 ERA) is among the front-runners for the AL Cy Young Award.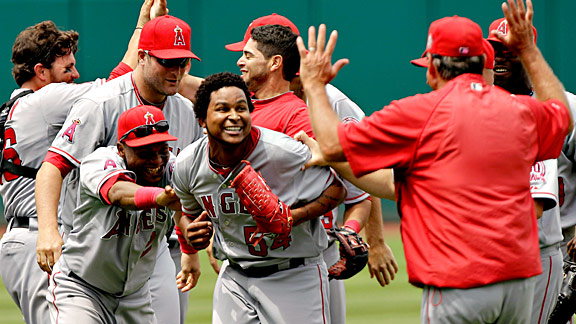 AP Photo/Mark Duncan
Ervin Santana celebrates with his teammates after his no-hitter against the Indians, a 3-1 win.