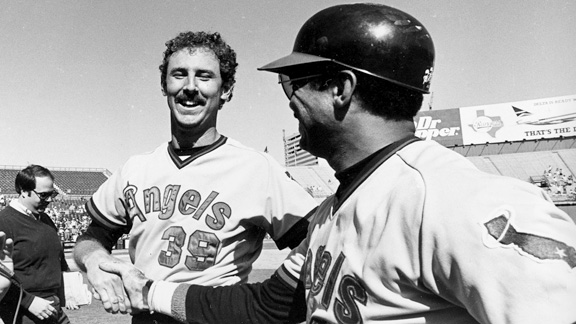 AP Photo
California Angels pitcher Mike Witt is congratulated by Reggie Jackson after pitching a perfect game in Arlington, Texas, on Sept. 30, 1984.For sheer, out-of-the-blue, random dominance, Ervin Santana's no-hitter Wednesday in Cleveland had nothing on Mike Witt's perfect game in 1984.
Santana went into Wednesday leading the Angels' staff in losses and had never beaten the Indians before he baffled them over 105 pitches Wednesday.
Witt's brilliant day came at an even less predictable moment. Both teams, the Angels and Texas Rangers, were playing out the string. In fact, it was the final game of a season in which neither team had qualified for the playoffs.
Only 8,375 fans were at Arlington Stadium that day.
Witt, for one, wasn't thinking about his offseason plans. He threw the 11th perfect game in major-league history, beating knuckleballer Charlie Hough, who nearly matched him pitch-for-pitch, allowing just one run.
Witt, like Santana, wasn't the most likely candidate to make baseball history at that moment. He was 24 years old when he came into the game with a 14-10 record after going 7-14 the season before. Witt, a 6-foot-7 right-hander, would go on to have a better-than-solid major league career, winning 18 games in 1986, but he wasn't in a class with the Hall of Famers who had thrown perfect games, guys like Sandy Koufax, Catfish Hunter, Jim Bunning and Cy Young himself.
On this Sunday, though, none of that mattered. In fact, all that seemed to matter was Witt's right arm and catcher Bob Boone's mitt.
Witt had struck out nine batters through eight innings and, after he struck out Tom Dunbar leading off the ninth, the small crowd was beginning to cheer for the visiting pitcher. Bobby Jones hit a dribbler to the second baseman and Marv Foley took three straight curveballs before grounding out to Rob Wilfong to end the game.
"It probably won't be until tomorrow and the next day and every day this winter that I'll be saying to myself, 'Hey, I did that.' I mean, to get 27 straight batters out is unbelievable," Witt said at the time. "For me to be able to say it is unbelievable."
Witt needed only 94 pitches and 1 hour, 49 minutes.
"His stuff was awesome," Hough said. "I saw Jerry Reuss and John Candelaria pitch no-hitters, but this was by far the most overpowering. I mean, this was no contest."
Like Santana, Witt needed only two dominant pitches. He threw 55 curveballs, 37 fastballs and two changeups. And people ever since have noted Witt's perfect game by saying, "He did that?"
This story is part of an occasional series of Angels Moments which, when it's complete, will -- we hope -- add up to 50. The Angels are celebrating their 50th anniversary this season. These are not intended to be an exhaustive list, but simply an assembly of scenes and anecdotes that are part of the team's colorful past.