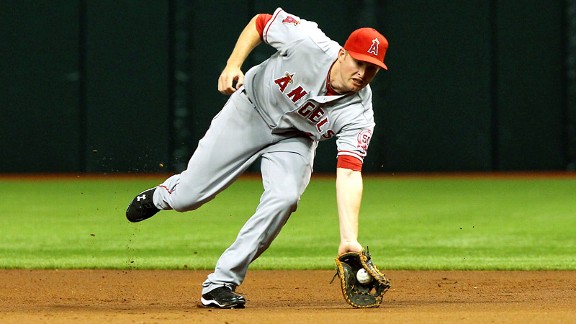 Kim Klement/US Presswire
Mark Trumbo showed in his rookie season that he could make plays all over the field.
We know how Albert Pujols impacts a team offensively. That's easily visible and quantifiable. But how will he impact the Angels defensively? Let's use some advanced metrics and video review to take a closer look.
Impact on First Base:
Pujols could mean less ground covered, but better throw-handling
Though Pujols is recognized as the gold standard for first base defense (he's won Baseball Info Solutions Fielding Bible Award in five of the last six seasons), Trumbo fared pretty well in his first season as the Angels' everyday first baseman, tying for the major league lead in Defensive Runs Saved.
In fact, the Angels may lose a bit in terms of the amount of ground their first baseman will cover. Trumbo was someone who could go outside of the area that most first basemen cover to get outs. He had a major-league best 41 Out of Zone plays in 2011, with Out of Zone defined as balls hit to areas in which first basemen get outs less than half of the time.
Trumbo has shown skill at making backhand plays on balls hit to the first base-second base hole, and the numbers back that up. He rated a plus-7 on balls hit to that part of the field in BIS's plus-minus rating, third-highest in the majors behind Joey Votto and Mark Teixeira. That means he got to seven more balls hit to that area than the average fielder.
Pujols rated a minus-2 on balls to the first base/second base hole, the first time he'd rated as below average at that since 2004.
Understanding Defensive Metrics
Keys for Success (First Base)
But Pujols does have an important area at which he excels, one that Runs Saved doesn't measure (it looks at defense vs batted balls and bunts). He handles throws from teammates very well.
BIS's video review of every play from 2011 tagged plays into 80 categories of Good Fielding Plays and Defensive Misplays & Errors.
Their video scouts charted Pujols with 32 Good Fielding Plays in which he either converted a tough-to-handle throw into an out, or came off the base to catch a throw and prevent a runner from advancing.
His ratio of 5.3 good plays for every bad play handling throws was above the major league average of 4.3.
Trumbo's good-bad ratio was not in Pujols' class: 20-to-8. In fairness, Trumbo may have had fewer tough throws to handle, but the difference in ratios between the two is indicative of Pujols being quite good at what he does.
In fact, over the last three seasons Pujols has 139 throw-related Good Plays, 18 more than any other major league first baseman.
Impact on Second Base Defense
Kendrick could have to handle what Pujols may not reach
If Pujols can't get to the balls hit to the right side like Trumbo can, he could use a partner on the right side of the infield who can cover a good amount of ground. He has that in Angels second baseman Howie Kendrick.
Kendrick made the biggest Runs Saved improvement of any position player in the majors, going from costing his team 11 runs with his second base play in 2010 to saving them 14 runs at the position in 2011.
Kendrick's history is that he's very good at fielding balls hit to that first/second hole, which will help Pujols a bit. Over the past four seasons, he rates 46 plays above average on such balls, which could be a product of both skill and positioning (such as on defensive shifts).
What it means
Last season, Kendrick's plus-10 on balls hit there was third-best among second basemen, behind Gordon Beckham (White Sox) and Dustin Ackley (Mariners).
Kendrick covered all of the area around him well last season. Of the 273 balls hit into areas in which second basemen get outs at least half the time, Kendrick successfully converted 247 into outs. His Revised Zone Rating of 90.5 percent was best among second basemen in the majors.
If the Angels hang on to Trumbo and/or Kendrys Morales, and leftfielder Vernon Wells is able to do something close to the 30 home runs he promised on Twitter, Kendrick will not have to play any first base or left field, as he did last season.
When he did, the Angels suffered statistically. Their replacement second basemen cost the team six runs over a little more than 500 innings with their inability to defend batted balls and turn double plays.
If you prefer traditional metrics, Kendrick had four errors. His subs played a little more than half as often and had six.
Consider this too: When Kendrick started at second base, the Angels were 65-42. When he started elsewhere, the Angels were 11-18.
Kendrick will be arguably the best right-side partner Pujols has had in awhile. The Cardinals didn't get positive Runs Saved out of their second basemen in any of the last three seasons.
Impact on Third Base Defense
Prognosis: uncertain
This is where the Angels will need to make a decision involving the value of Trumbo's bat/glove versus that of Alberto Callaspo.
If the Angels elect to play Trumbo, who is currently rehabbing a stress fracture in his foot, at third base, he'll have a bit to live up to on the defensive end.
The first to third transition is doable, but not easy. According to the Elias Sports Bureau, in the last 25 seasons, two players have played 100 games at first one season and then 100 at third the next season -- Todd Zeile (2001/2002) and Kevin Youkilis (2010/2011)
The Angels everyday third baseman in 2011, Callaspo, had four Defensive Runs Saved.
The strength of Callaspo and free agent Maicer Izturis was handling balls most likely to be outs. Angels third basemen posted a combined Revised Zone Rating of 75.8 percent, second-best in the majors.
If Trumbo's skill backhanding balls can be converted from first to third base, he'll be valuable, because many of the balls hit to the third base line are would-be doubles.
That, as well as whether Trumbo's bat will improve, are big ifs, and are part of the equation that Jerry DiPoto will have to figure out as the rest of the winter progresses. The good news for the Angels is that he's dealing from positions of strength, both offensively and defensively.