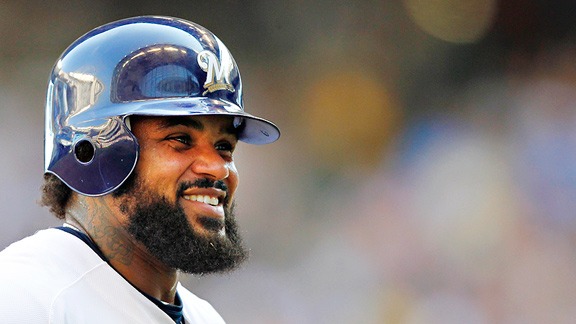 AP Photo/Jeffrey Phelps
Of all the moves this offseason, Prince Fielder not signing with Texas ranks as one of the biggest for the Angels.
This is part of an occasional series comparing the rosters of the two-time defending AL champion Texas Rangers and the rebuilt Angels, who could have the hottest rivalry in the league this year.
If you were ranking this winter's free-agent news in terms of its impact on the Angels, you might have to put the stories in the following order:
1. Albert Pujols signs with the Angels.
2. Prince Fielder doesn't sign with Texas.
3. C.J. Wilson signs with the Angels.
4. LaTroy Hawkins signs with the Angels.
No offense to Wilson, a fine left-handed pitcher who I think will thrive pitching at Angel Stadium, or to Hawkins, who should be a winning influence on the bullpen in 2012. Their impact probably won't approach the damage Fielder could have done from afar over the next nine years.
Just imagine what Texas' lineup would have been like on a nightly basis after inserting a guy who has averaged 37 home runs (and hit 50 one year) and 106 RBIs, who doesn't turn 28 until May. The Rangers scored 855 runs last year, just 20 behind league-leading Boston.
Inserting Fielder would have given Texas perhaps the two most-feared left-handed hitters in the game (Fielder and Josh Hamilton) to go along with its four right-handed hitters who smacked at least 29 home runs last year. The only reason to think Texas wouldn't have had the best 3-4 hitters in baseball is you don't know whether manager Ron Washington would have broken up his two left-handed sluggers.
Not only would the Angels have had to pitch to Fielder about 75 times a year (as opposed to 25 or fewer now), they would have faced the possibility of meeting that lineup again in the playoffs. Who knows, it might have reduced the Angels to chasing one of the wild-card spots for years. Under the new proposed format, that's a far more perilous road to the World Series than winning the division.
Yeah, it's scary to think about, but now you don't have to. Instead, we can ask: Whose middle-of-the-order would you rather have, the Angels' or the Rangers'?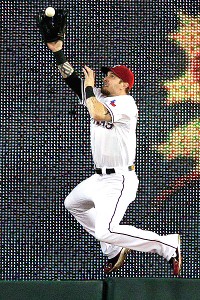 AP Photo/Charlie Riedel
Josh Hamilton (at times) does play the second-most-dangerous position, center field, and he does so with a reckless style.
Let's start with Hamilton vs. Pujols, which seems easy enough. Pujols is not only a better hitter (no slight to Hamilton), but he's, crucially, been way, way more durable. Pujols' career OPS is 1.037 and he has averaged 155 games a year. Hamilton's is .909 and he has averaged 118 games. Of course, Pujols plays the most sedentary position (first base) while Hamilton (at times) plays the second-most-dangerous, center field, and he does so with a reckless style.
But is the gulf really that wide? Pujols is nearly a year-and-a-half older and, when he manages to stay on the field, Hamilton is awfully good. The one time he played more than 150 games, he drove in 130 runs. Two years ago, he won the MVP while playing 133. Until he proves he can produce as consistently as Pujols, though, you have to give the Angels the edge in the No. 3 hole.
After that, things start to fall apart for the Angels. Finding protection for Pujols will be the theme of spring training and could become the bane of 2012. All eyes next month will be on Kendrys Morales, who not only might be the second-best hitter in the lineup but might provide the only left-handed power. Will he be the guy who finished fifth in MVP balloting in 2009, the guy who couldn't recover from ankle surgery last spring or something in between?
If Morales isn't the answer in the 4-hole, the Angels figure to struggle to produce like the big-boy lineups in Texas, Detroit, Boston and New York. Mark Trumbo (.287 career OBP) seems too young and impatient to hit behind Pujols, Vernon Wells and Torii Hunter seem too old (or declining) to do it and nobody else has the power to make pitchers nervous about walking him. If it's not Morales, the next-best option might be Howie Kendrick, who has dangerous gap power, but until last year, struggled to reach double digits in home runs.
The problem for Washington might be dealing the the bruised ego of whichever slugger he has to bat seventh. Last year, Michael Young did the bulk of the work in the cleanup spot and that wasn't exactly a disaster judging by Young's .331 batting average there. Mike Napoli (1.046 OPS last year) seems like the best option if he can stay healthy, but Washington has the luxury of sitting back and seeing who gets hot. Adrian Beltre, Nelson Cruz and Ian Kinsler all mashed at least 29 home runs a year ago.
What's even scarier to think about than Fielder in a Rangers uniform, Angels fans? The divide between these two offenses if Arte Moreno hadn't ponied up for Pujols.