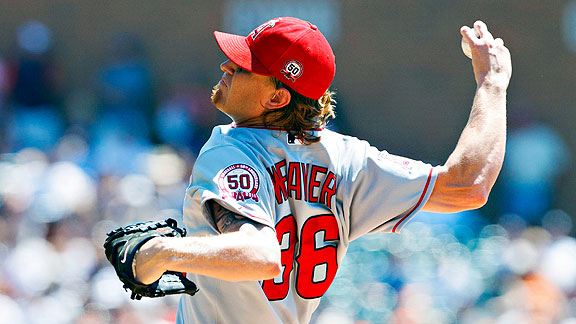 Rick Osentoski/US Presswire
In his AL West position rankings, ESPN's Sweet Spot blogger David Schoenfield gave the Angels the nod for the best No. 2 starter, the best No. 3 starter and the best No. 4 starter. They almost got No. 1, but Felix Hernandez edged out Jered Weaver.
Yeah, things are looking pretty good for 2012. But let's delve a little more closely into each pitcher on this Angels staff to see what could go right, what could go wrong and what we think will happen:
Jered Weaver
Best-case scenario: Fifth in Cy Young balloting, followed by second in Cy Young balloting followed by ... Get my drift? After two successive seasons of cementing himself as one of the elite pitchers in the game and starting the All-Star game last year, one more step forward could put Weaver on top of the heap. His strikeouts were down a tick, but he produced a career-best 235 2/3 innings and 2.41 ERA. If this trajectory holds, he'll give the Angels a staff leader who can reliably lead them where they want to go.
Worst-case scenario: Weaver's average fastball velocity last year was 89.1 mph, the lowest of his career. He picked up the slack by featuring his excellent changeup and slider more often, but it could be that the mounting innings have taken their toll on his arm. He has an ideal pitcher's body, tall and whiplike, but he's not the bulkiest guy (6-foot-7, 215 pounds). He's had some back issues and you wonder what's around the corner. An injury of any length could be a mortal blow to the Angels' playoff push.
Prediction: I expect Weaver to tail off a bit from two Cy Young-contending seasons, but his competitiveness and stuff make him a reliable staff ace.
Dan Haren
Best-case scenario: What's not to like? He never misses a start, gives you 230 innings a year and doesn't walk anybody. It seems like a solid foundation for one of the most consistent pitchers in the game. Nothing about last season's numbers (3.17 ERA, 1.024 WHIP) suggest they're a fluke, mostly because he does it every year (with the exception of a poor first half on a lousy Arizona team in 2010). He's as bankable as they come and only slotted No. 2 because he pitches on a staff with Weaver.
Worst-case scenario: I won't even mention the possibility of injury, because Haren is as close to indestructible as any pitcher alive. But there was a pronounced shift in his pitching style last year due in part to some bouts where he lost touch with his strikeout pitch, the split-finger fastball. Haren threw his cutter nearly 48 percent of the time last year, by fast the highest percentage of his career while, at times, abandoning the splitter. His 7.3 strikeouts-per-nine innings were the lowest since 2006. Is he, at 31, turning into more of a middle-rotation innings eater than a true ace? Not yet, but that would be the concern.
Prediction: Death, taxes and Dan Haren's 200-plus strong innings. Seems like as close to a sure thing as you can find among pitchers.
C.J. Wilson
Best-case scenario: Turning him into a starter was the best thing the Rangers could have done for Wilson's career. He went from being a bad closer in 2008 to being one of the best starters in the league a couple of years later. A lot of pitchers can throw multiple pitches, but rarely do. Wilson throws virtually everything -- fastball, cutter, slider, curveball, changeup -- and keeps hitters off balance. Moving from one of the toughest places on earth to pitch, Arlington, Texas, to pitcher-friendly Angel Stadium could turn him into the best No. 3 starter in baseball.
Worst-case scenario: If the Angels are as good as they hope they are, where would Wilson slot in the postseason rotation? While Weaver and Haren are proven in big-game scenarios, Wilson's record is more checkered. He has a career ERA of 4.82 and he was, frankly, awful in both the Division Series and ALCS last fall.
Prediction: He's in line for a career year, but he'll still have to answer tough questions if the Angels reach the playoffs.
Ervin Santana
Best-case scenario: As evidenced by his no-hitter in Cleveland last year, Santana has some of the best pure stuff on a star-studded staff. His mid-90s fastball and slider can, at times, be virtually impossible to hit. Last year, he showed determination he had at other times in his career seemed to lack. If he can pitch as well all season as he did in last year's second half (2.78 ERA), he could give the Angels unprecedented depth.
Worst-case scenario: So, why is he barely over .500 at 36-30 the past three seasons? With a limited repertoire (his efforts to incorporate a splitter never really took off last year), you wonder whether his ceiling is lower than those of Weaver, Haren and Wilson. His batting average on balls in play (.272) was the lowest it's been since 2006, which suggests his luck could even out a bit.
Prediction: He'll be solid, but not as good as last season.
Jerome Williams/Garrett Richards
Best-case scenario: With all due respect to Williams, who was one of the best stories of late 2011 after a lengthy absence from the league, the Angels are better off if Richards can force his way into the rotation. With the other starters aging into their 30s, it would be nice to see some of the team's prospects begin to blossom. Right now, he's at the top of the list.
Worst-case scenario: If Williams tails off as badly as Joel Pineiro did last year, the Angels could be in a position of forcing Richards into a role he's not ready for. The depth at Triple-A was awful last year and is only marginally improved going into this season. Trevor Bell and Brad Mills don't inspire confidence.
Prediction: As usual, expect turmoil at the back end of the rotation, but don't be surprised to see general manager Jerry Dipoto add some pitching depth before long to stabilize matters.