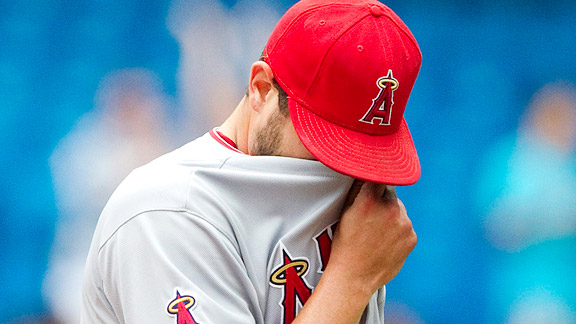 AP Photo/The Canadian Press, Darren Calabrese
The Angels hope to avoid scenes like this by pairing Walden with veteran relievers.
If it seems the Angels are filling their bullpen with veterans whose most-dominant years are behind them, it's not an accident.
The additions of LaTroy Hawkins and Jason Isringhausen, both 39, are intended -- in part -- to provide mentors for second-year closer Jordan Walden. In his rookie season, Walden, 24, was essentially thrown to the wolves, to mixed results.
Hawkins and Isringhausen both have been closers and have combined to pitch in 17 playoff series. The bonding experience has already begun. The Angels relievers have played golf together and dined together. Next up is movie night.
"There's nothing he could go through on a baseball field I haven't gone through," Hawkins said. "If I can help him avoid some of the mistakes I made, then we'll be all right. He has the stuff, without a doubt. From what I heard from Torii [Hunter], he has unbelievable stuff. It's all about honing that in and then doing it day in and day out."
The Angels departed from a familiar pattern last season. They prefer young relievers to grow into the closer role under a veteran. Troy Percival waited behind Lee Smith. Francisco Rodriguez waited behind Percival. Brian Fuentes was an established veteran when he arrived. The plan dissolved last year after Fernando Rodney struggled and was demoted to eighth-inning duty.
The only two other veteran relievers last year were both soft-throwing left-handers, Scott Downs and Hisanori Takahashi. Neither has pitched in the postseason.
"We were some young guys down there last year. It's going to be huge to have guys I can talk to who have been there and done it," Walden said.