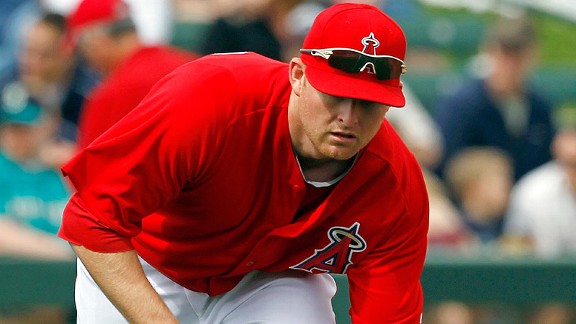 AP Photo/Chris Carlson
Mark Trumbo played his first competitive innings at third base in seven years and nothing happened.
Chone Figgins feigned a bunt, but didn't put one down and nobody hit a ground ball Trumbo's direction over three innings Wednesday. That's not a coincidence. Jered Weaver, an extreme flyball pitcher, was on the mound. The Angels were looking to ease Trumbo into it. He might get a test this weekend. That's when Trumbo figures to get cleared to hit and will be able to play longer in the field.
It will also be when he has to start compartmentalizing. Dealing with the stress of two new positions -- third and the outfield -- could affect Trumbo's hitting. He's being paid for his bat, not his glove. Last season, Trumbo led the Angels with 29 home runs and 87 RBIs.
"I'm going to make a conscious effort to separate the two," Trumbo said. "I'm trying the best I can to put as little pressure on myself on defense as possible. I trust that I am going to make the plays, but if they don't happen, I've just got to bounce back and look to contribute offensively. I just want to make the routine plays."