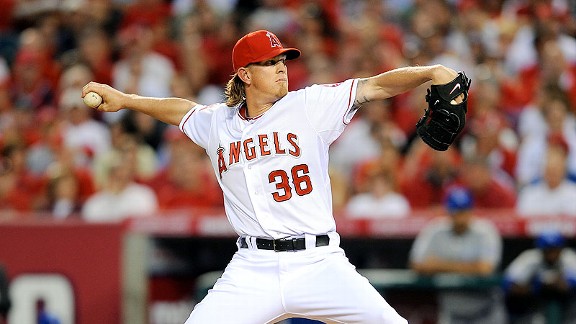 John Cordes/Icon SMI
Jered Weaver has been around these parts for a while. He came up with the Angels six years ago, went to college 15 miles from their stadium and grew up an hour-and-a-half drive north.
Starting this winter and building toward Friday night's crescendo, Weaver could sense a change in Orange County and beyond when it came to Angels baseball.
"I think it's a little bit more electric," Weaver said.
Maybe so, but for seven innings this Angels team looked exactly like the 2011 and 2010 models, which is to say far from electric, borderline dull. Weaver was out there all by himself for a time. He was practically embarrassing Kansas City Royals hitters, striking out 10 of them, but the Angels hitters -- including Mr. Electricity himself, Albert Pujols -- couldn't solve a riddle known as Bruce Chen.
After a while, that sense of déjà vu was starting to cause some squirming in the Angels' dugout. Last season, the Angels criminally neglected their pitching staff, getting shut out through five innings a major league-leading 50 times. It got so bad, owner Arte Moreno apologized to Weaver and Dan Haren after the season, promising them a little more run support.
"It's funny. After five innings, that did pop into my mind," manager Mike Scioscia said.
Maybe all that practice paid off for Weaver, because he just kept soldiering on while the zeroes lined up on the center-field scoreboard. Eventually, something gave, specifically a pretty good Kansas City bullpen, and the Angels rallied for five runs in the eighth to make a success of Opening Day.
If there's anybody around here who can upstage Pujols, the greatest player in a generation, it's Weaver. Pujols used to have to face him every few years. He'd much rather stand and watch him from the comfort of first base.
"The way he hides the ball is amazing. It almost looks like a rosin bag coming out of his hand," Pujols said.
Pujols, of course, didn't give the crowd the charge it was looking for, though you could sense the anticipation when he came up with runners on in three of his four at-bats. As he pointed out, this won't be the last time this season he goes 0-for-3. If his soft liner had been six inches to the left, it would have eluded Alcides Escobar for a hit -- and an RBI -- in his first regular-season at-bat as an Angel.
"I kept looking at my bat. I was putting good barrel on it. That's the way it goes," Pujols said. "You try to put a good swing on every pitch and sometimes, you're going to come through, sometimes you aren't. ... We've got 162, er, 161 to go."
That's a lot of games, but Weaver made sure they didn't feel so overwhelming.