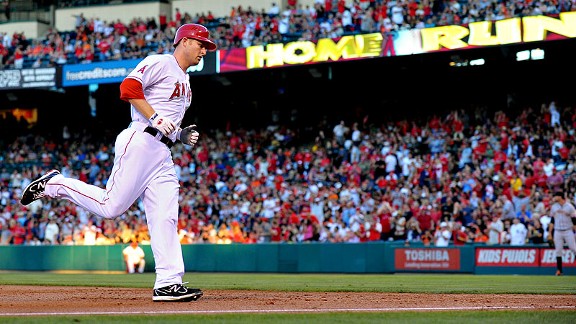 Cal Sport Media/AP Images
With their combination of speed and power, Mike Trout, who stole three bases, and Mark Trumbo, above, who homered on an otherwise off night for Angels batters, could be the team's top talents.
ANAHEIM -- Matt Cain wasn't perfect, but Monday night he didn't have to be.
The Angels hitters continued to struggle in the clutch and Jerome Williams got them off to a sloppy start in a 5-3 loss to Cain and the San Francisco Giants. It was Cain's first start since his perfect game against the Houston Astros and he struggled to get through five innings under constant pressure.
The Good:


T and T. Mike Trout nearly took over the game with his speed, Mark Trumbo nearly won it with his power. That's a phrase Angels fans could be reading for years to come. Trout was successful in all three of his stolen base attempts -- running on 2010 rookie of the year Buster Posey -- and Trumbo hit an impressive opposite-field home run to tie the game in the second, his team-high 16th of the year. If the first few months are any indication, these two guys might be the Angels' best players -- not in the future, now.
Late to the party. The bottom third of the Angels' order finally contributed, helping build steady offensive pressure that had been missing for a week. Maicer Izturis was on base twice, Erick Aybar is heating up and even Bobby Wilson -- fresh off the concussion list -- chipped in with a sacrifice fly that was nearly a grand slam. Even as the Angels have heated up over the last six weeks, the bottom of their lineup was a major cold front.
Real relief. The Angels have won four of their last seven games while batting .140 with runners in scoring position. The credit goes to pitching and not just the starters. Angels relievers had five saves and a 4.70 ERA in the first 32 games. In the next 35, they had 10 saves and a 2.14 ERA. Three Angels relievers tried to hold the line for the offense to rally, but it never happened.
The Bad:
Slippery slope. Is Jerome Williams' spot in the rotation safe? That's a reasonable question after a third straight sub-par outing. In fairness, Williams pitched well at Dodger Stadium and the three-run home run he gave up to Juan Rivera may have been the result of fatigue (and a managing blunder by Mike Scioscia). By no measure did he pitch well Monday, giving up seven hits and three walks in less than four innings. With Garrett Richards pitching as well as anyone in an Angels uniform and Jered Weaver back Wednesday, Williams might have reason to be nervous this week.
Mini-funk. Compared to the first six weeks of the season, Albert Pujols' current stretch is a speed bump. But he clearly isn't quite as locked in as he was two weeks ago. Pujols had at-bats with runners in scoring position his first three times up and managed one RBI (though he was also hit by a pitch). Pujols has one hit in his last 14 at-bats, a bit concerning considering he's facing National League pitchers he knows well.
Not-so-mini slump. Kendry Morales' days as a cleanup hitter could be over, or at least they should be. Trumbo hits right-handers just as well as lefties (.321 to .319) and Morales isn't hitting anybody right now. He went hitless, struck out twice and is 1 for his last 14 with seven strikeouts. So far, Morales (seven home runs) hasn't been the same player he was before May 29, 2010 -- the day of his major ankle injury. Until he gets back to being that guy, he should hit fifth or lower.