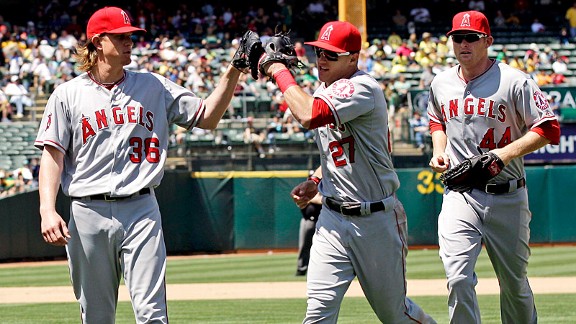 AP Photo/Marcio Jose Sanchez
The Angels are a different team in July than they were in April.
Obviously, right? They have Mike Trout and Ernesto Frieri now. They had Bobby Abreu and Vernon Wells then.
But the morphing of the team's personality has been more drastic than the sum of its personnel moves. Over the intervening few months, the Angels have gone from being a light-hitting team with lockdown starting pitching to a menacing group of hitters trying to obscure an erosion in the quality of pitching.
This, by the way, is why all those starters -- being starved of run support early -- were wise to hold their tongues about how frustrating it was. Good karma has its own reward.
"It's a little change of pace," Jered Weaver said Wednesday, after one of his shakiest outings during this dominant stretch of his. Weaver had uncharacteristically poor command, leading to a high pitch count that knocked him out after five innings. It didn't matter much, because the Angels had handed him a 7-0 lead in the first three innings. That was a week's worth of scoring in April.
Even the Angels' good starts are unconvincing nowadays.
"These guys go out and swing the bats and put up some runs for us," Weaver said. "It takes a lot of pressure off us, knowing that if we go out there and give up two or three, that these guys are going to answer back and score some big runs."
The Angels lead the majors this month with 114 runs, and many of them have been loud. Their 33 home runs in July also lead the majors. Meanwhile, the team's ERA in July is 4.85. Only five teams in the majors have pitched worse this month and all of them, other than the Angels, are either in last place or headed that way.
Early this year, the Angels were riding the shoulders of Weaver and what seemed like four other reliable starters while the offense filled up row after row of zeros. They were 13th out of 14 AL teams in runs scored for April.
Much of this surge has been because of Trout, who is scoring 51 percent of the time when he reaches base safely, according to ESPN Stats & Information, by far the highest rate in the majors. Albert Pujols has heated up week by week, of course, and Mark Trumbo has been steadily productive. Guys who were slumping are returning to their career norms.
It doesn't feel fluky or short term, but sadly for the Angels, neither does the breakdown in pitching. Weaver is the one bankable commodity now. The Angels were going to give Ervin Santana one last chance to keep his rotation spot, but even that fell through when they elected to skip Santana and pitch Dan Haren on four days' rest this Friday. C.J. Wilson has struggled with command lately, Haren remains a mystery coming off back issues, and Garrett Richards and Jerome Williams have been stuck in a battle of mediocrity to win the fifth starter spot.
So far, GM Jerry Dipoto hasn't been able to land another starting pitcher. He did acquire Barry Enright from the Arizona Diamondbacks to stash him away in Triple-A in case the Angels' need becomes more dire or Enright finally taps into the potential that made him a second-round pick not so long ago.
Is this sustainable? There have been teams that have hit their way into the playoffs and gone a long way in spite of their pitching. The 2009 New York Yankees won the World Series with ace CC Sabathia followed by so-so starters A.J. Burnett and Andy Pettitte (and then they prayed for rain, or lots of off days in the playoffs). The team the Angels are chasing, the Texas Rangers, have similar rotation concerns, theirs due to injuries, and they seem to be holding up just fine.
But the Angels aren't counting on going far with such a unidimensional approach, which is why their search for pitching answers is so frantic.
"Offensively, we're trying to take over. When we weren't doing well, the pitching was doing their thing," Torii Hunter said. "We need to just come together and get it going."