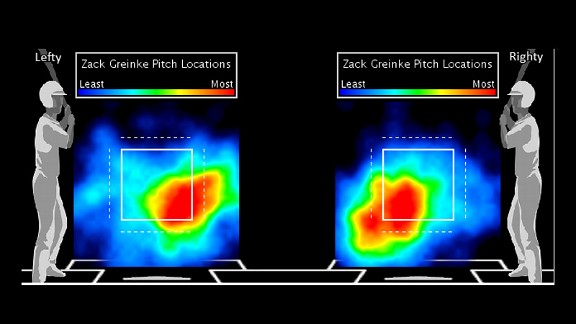 Where Zack Greinke has pitched to hitters this season.
Streak on the Line
Zack Greinke brings a 19-game regular-season home winning streak to Anaheim, encompassing 15 wins with the Brewers and four with the Royals (he also won a home game for the Brewers in the 2011 NLCS).
Longest home winning streaks
Since 1900
If Greinke can get a win Sunday, he'd be the first pitcher to put together a 20-game regular-season home winning streak since Hall of Famer Lefty Grove, whose streak spanned from 1938 to 1941.
Greinke's last home loss was a 19-1 defeat against the Twins as a member of the Royals on July 26, 2010.
Matchup to Watch
Rays slugger Carlos Pena is 6-for-36 in his career against Greinke, but was 3-for-9 with a home run (which came on a high fastball) against him last season.
Greinke could be primed for a huge strikeout game. Thanks to Baseball-Reference.com, we can tell you that the hitters on the Rays' roster have 49 strikeouts and only five walks in 121 regular-season career plate appearances against Greinke.
Keep it Down
No one keeps his pitches lower to the ground more often than Greinke does. We alluded to this in our initial post on this trade.
Greinke throws the ball in the lower third of the strike zone or below 59 percent of the time. That's the highest rate in the major leagues. (See heat map above.)
Greinke has gotten 86 strikeouts with a pitch in the lower-third of the strike zone or below. Over the past three seasons, he has 338 such whiffs, which ranked fourth in the majors entering Saturday.
BABIP
There was a school of thought that Greinke's high batting average on balls in play was due to the Brewers' defensive struggles.
The chart to the right shows what Greinke has yielded on the batted balls that stayed in the ballpark this season, compared to what Angels pitchers have yielded. The difference is quite stark.
Opponent success reaching base
rates in 2012 season
What does this translate to on a more practical basis? Think of it this way: A typical Greinke start this season has produced nine ground balls, five fly balls and three line drives.
Given the Angels' rate of defensive success this season, you'd expect that combination of batted balls to produce an average of a little less than five hits per game. That's about a half a hit difference from what the Brewers yielded for him.
So for every two Greinke starts, you could make the case that the Angels' defense should save him at least one base hit allowed.
And perhaps that's enough to make a difference in 2012.