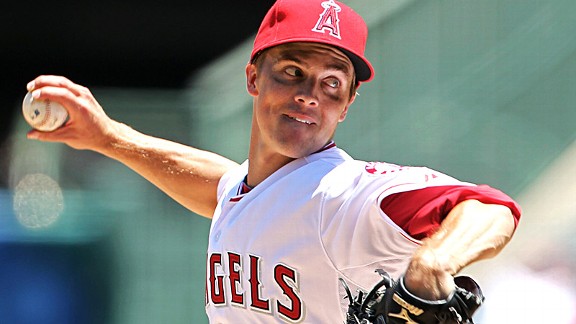 AP Photo/Reed Saxon
Zack Greinke made his first start as an Angel on Sunday afternoon, but it was his third start at Angel Stadium.
Here's how his luck has gone in Orange County:
In 2009, he took his first loss of what proved to be a Cy Young season when he allowed one run in eight innings and the Kansas City Royals couldn't score at all off the Angels' Joe Saunders.
"I was mad, because I thought we should have scored on Saunders," Greinke said Sunday.
The next year, he again gave up one run, but Jered Weaver struck out 11 batters and the Royals lost 2-1.
"My bad," Weaver chirped as Greinke addressed reporters Sunday.
And, this time wearing an Angels uniform, Greinke showed everyone how promising this rotation might prove with he and Weaver as teammates, but it was more of the same on Sunday. He struck out eight batters in seven innings and lost 2-0.
So, to recap, he has a 1.57 ERA in his Angel Stadium starts, is 0-2 and his team is 0-3.
Not exactly the fond thoughts the Angels were hoping to plant in his head as he mulls where he wants to sign a long-term extension this fall. Greinke has been the toughest pitcher in baseball when he has the crowd on his side -- 19 straight home wins entering Sunday -- but at this rate, it's going to take a while before he considers Anaheim home.
Then again, there's more to life than results.
"It's fun so far. I like the clubhouse and I've always liked this stadium," Greinke said. "I don't know, it's pretty early, but I feel pretty comfortable so far and, hopefully, we'll win a bunch of games and it becomes a fun season."
Greinke's home winning streak went all the way back to the end of 2010 and, since it was stretched between Kansas City and Milwaukee, seems to be more of an anomaly than a stat. It's probably more a reflection of his overall prowess than anything specific to the environment. Most pitchers perform better in comfortable locales, of course. Just ask Weaver, who has been as reliable in Anaheim as the incoming tide.
Still, it was a cool distinction for Greinke and it ended the day after he arrived in Anaheim.
"It was a pretty lucky streak, a lot of good things happened out of my control to make it," Greinke said.
Let's forget about the place for a minute. Greinke has been just plain unlucky lately wherever he's pitching. Even with the stress of seeing his name in trade rumors for the past few weeks, he had pitched solid baseball for the Brewers in July without recording a win. After being ejected for spiking a ball in the first inning of one game and then opening up after the All-Star break, he became the first pitcher since 1917 to start three straight games for a team. Even that accelerated timetable couldn't net him a win.
When Greinke pitches next for the Angels, he'll be looking to pick up his first win since June 27. He and C.J. Wilson are the tough-luck guys in the Angels' rotation at the moment. It was Ervin Santana and Dan Haren early. Wilson and Greinke's starts happened to fall on a sudden cold snap for the offense, which has managed no runs and just nine hits the past two games against two good young Tampa Bay pitchers, Matt Moore and Jeremy Hellickson.
Wilson and Greinke both went 0-for-July.
Sunday was a frustrating day for the Angels because their offense -- absent catalyst Mike Trout -- looked as dynamic as a wet napkin. But, assuming these two games aren't harbingers of a long-term trend, Sunday was a generally hopeful day. Greinke looks like he'll give the Angels the stability in their starting rotation they so badly wanted before the deadline.
If the struggles of a No. 5 starter -- in this case Ervin Santana -- are your only worries on the pitching front, you're ahead of about 95 percent of the teams in baseball.
"There's no doubt that our rotation's better right now with Zack in it than it was before," Angels manager Mike Scioscia said. "We're excited to see him pitch well this afternoon and, hopefully, he'll continue it [his] next start on Saturday in Chicago."
And the good news is Chicago is only a 90-minute drive from Milwaukee, which will feel like Greinke's home until it doesn't.