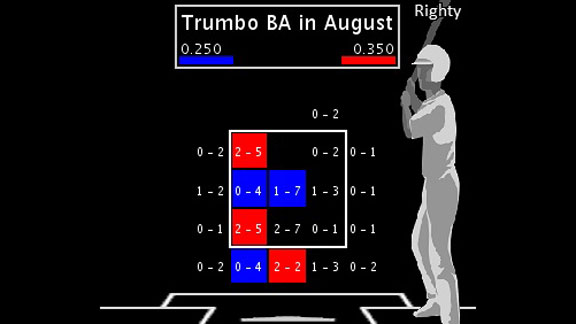 ESPN Stats & Info
Mark Trumbo has been struggling to hit pitches in the heart of the strike zone this month
The Los Angeles Angels have continued to struggle in August, falling to 5-10 with a loss to the Tampa Bay Rays on Thursday. That is tied for the fifth-worst win percentage in baseball this month – only the Chicago Cubs, Cleveland Indians, Houston Astros and Toronto Blue Jays have been worse.
Angels By Month This Season
Making matters even more difficult is that the team is struggling in several areas.
BULLPEN WOES CONTINUE
In August alone, the bullpen has given up 38 runs in 42 2/3 innings. That 8.02 collective ERA is more than twice as high as the bullpen's ERA from April to July (3.40). Four Angel relievers have an ERA over 10 this month: Hisanori Takahashi (10.80), LaTroy Hawkins (12.15), Jason Isringhausen (12.46) and David Carpenter (32.40).
TRUMBO SWINGING AND MISSING
Mark Trumbo played a huge part in keeping the Halos in the AL West race during the first four months, but he's hit a wall in August – batting .211 with just two extra-base hits (although they are both homers). Lately, he's had trouble even putting the ball in play. Of Trumbo's 45 outs this month, 22 have been strikeouts. He's missed on 42.6 percent of his swings this month, by far the most in the big leagues among players with at least 40 plate appearances.
C.J. WILSON GIVING UP THE LONG BALL
C.J. Wilson took a 2.88 ERA and .215 opponent BA into August. The southpaw had allowed eight homeruns in 137 2/3 innings. Wilson's opponent slugging percentage of .298 was the best among qualified starters.
This month has been a disaster for Wilson. The Angels have lost all three of his starts and he's given up 13 ER including four homers in 17 innings.
Despite the August slump, the Angels are still in the thick of the Wild Card chase, just two-and-a-half games back entering play on Friday.