Kyle Terada/USA TODAY Sports
Josh Hamilton is showing signs of life with home runs in his last two gamesSitting a season-low 11 games under .500, the Los Angeles Angels desperately needed to avoid a sweep at the hands of the lowly Houston Astros. A three-run rally in the eighth saved the day from what could have been more umpiring controversy had the Angels lost. There were also some other bright spots:
Houston, we have no problem
Josh Hamilton is still flirting with the Mendoza line, but he is hitting the ball with more authority. He has 10 well-hit balls in his last 10 games after having 11 in his first 24 games.
Hamilton also has home runs in his last two games, giving him four on the season. The catch is that all four of his deep flies have come against the Astros and their league-worst pitching staff.
Walk this way
The Angels patience at the plate was also impressive Thursday as they walked 11 times (although some credit goes to the aforementioned Astros pitching staff). The 11 free passes are the most for the Angels in a game in the last five seasons. Their previous season-high was seven.
Today's matchup
Tommy Hanson (LAA) vs Dylan Axelrod (CHW)
Hanson has kept the Angels in the ball game in four of his five starts this season, but there are definitely some danger signs:
Hanson throws his fastball more than half the time. This season it is averaging 87.9 MPH – down a mile-and-a-half from last season.
In addition to the lack of velocity has been a lack of location. 49 percent of Hanson's fastballs have been up in the strike zone. That is tied for fifth in the majors this season behind only Matt Harvey, Zach McAllister, Shelby Miller and Alexi Ogando. Unlike most of those guys, Hanson doesn't have the stuff at this point in his career to get away with mistakes like that.
Opponents are hitting .408 against his fastball. The only pitcher that has thrown at least 200 fastballs that has a higher opponents' average is Jonathan Sanchez at .429 – and he's currently looking for work after being released by the Pittsburgh Pirates.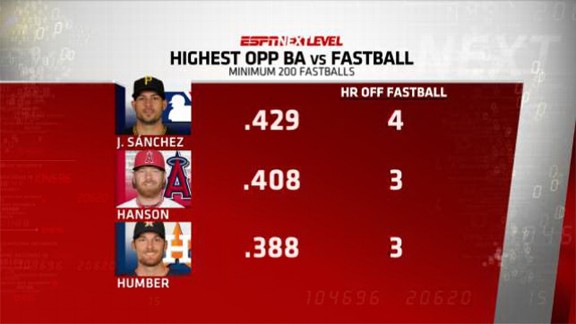 ESPN Stats & Information