Wednesday marked one of the best games of the season for Albert Pujols as he went 3-for-5 with his 11th homer of the season. Unfortunately these games are now fewer and farther between for the man who was a perennial Triple Crown contender each season in St. Louis. Pujols has seen a decline in each of the past four seasons in batting average, OPS and home run rate.
Grantland's Jonah Keri wrote a brilliant piece on Pujols and the perils of signing a player his age to a nine-digit contract a couple days ago that you should check out if you haven't already.
In addition to what Jonah details, several things stand out about Pujols this season that have led to his severe struggles.
Can't catch up to high heat
From 2009 to 2012, Pujols hit .312 with a .641 slugging percentage on fastballs up in the zone. This season, "the Machine" has been overmatched; he's hitting .167 on fastballs up. He's missed 13 percent of the time on swings against high heaters this season compared to 9 percent in the previous four years.
Age and injury have likely contributed to a drop in bat speed. A look at his heat map on these pitches this season shows he has an especially hard time catching up to fastballs on the upper inner corner of the strike zone (.091 BA).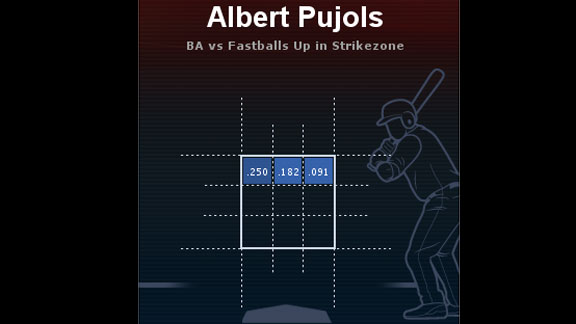 ESPN Stats & Information
Lack of plate discipline
Since joining the Angels, Pujols has chased 32 percent of pitches outside the strike zone. As a result, his walk rate is 8 percent since moving to Anaheim after he took a free first base 13 percent of the time with the Cardinals. Of course part of this drop-off is due to pitchers attacking Pujols without fear rather than intentionally walking him or pitching around him the way they did in his prime.
Suddenly can't hit lefties
One of the strangest aspects of this season for Pujols has been his struggles against left-handed pitching. He entered 2013 as a career .334 hitter against southpaws. This season he's hitting .190 against them. Among qualified right-handed or switch-hitters, that is the third lowest in baseball, ahead of only the Pittsburgh Pirates' Neil Walker (.184) and the Atlanta Braves' B.J. Upton (.177).
Left-handers have been able to lock up Pujols with inside pitches, holding him to three hits in 26 at-bats ending in a pitch to that location.
Today's matchup
Andy Pettitte (NYY) vs C.J. Wilson (LAA)
Pujols is merely a participant in this team-wide predicament. The Angels enter today's matchup with Pettitte as one of the worst-hitting teams in the league against left-handed pitching. At .222, their batting average is the fourth lowest in baseball.
One player who has had success against Pettitte is Erick Aybar. He's 10-for-26 with a walk against the veteran Yankee.