AP Photo/Pat Sullivan
Tyler Skaggs was dominant in his Angels debut last weekend.
Has Tyler Skaggs finally returned home for good?
The left-hander was originally a sandwich pick by the Los Angeles Angels in the 2009 draft, but when the team had a chance to pick up Dan Haren a year later, Skaggs ended up going to the Arizona Diamondbacks as the player to be named later.
Fast forward to this past offseason, the Angels were able to bring Skaggs back as part of the package for Mark Trumbo.
Despite all the transactions, Skaggs -- who was born in Woodland Hills and attended Santa Monica High School -- won't turn 23 until mid-July.
Tyler Skaggs
MLB Career
Skaggs was Keith Law's 12th-best prospect entering last season. At that point in his career he had a 2.98 ERA in nearly 400 minor league innings, while averaging over a strikeout per inning.
But in 13 career starts at the big-league level with the Diamondbacks, Skaggs had just a 5.43 ERA.
Stepping up his game
Last week Skaggs held the Houston Astros to four hits and walk in eight innings, giving up only an unearned run. His 2014 debut is obviously an incredibly small sample size, but there are some big differences aside from the end result that justify Law in naming him as one of his 10 breakout picks for this season.
In two partial seasons with Arizona, Skaggs' fastball averaged 89 mph. In his start this year he averaged 92, while topping out at 95. Not only did he pitch with increased velocity, his control was improved as 58 percent of his pitches ended up in the strike zone.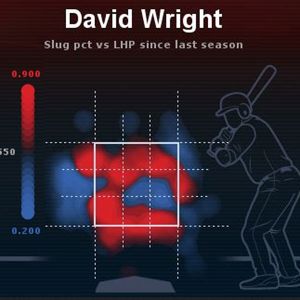 ESPN Stats & Information
One quirk about Skaggs' start against the Astros was that all 29 batters he faced were right-handed. In the previous two seasons, righties hit .263 off Skaggs compared to .216 for lefties.
Friday's matchup vs. Mets
On paper, Friday's matchup against the New York Mets is another favorable one for the young lefty. Since the start of last season, the Mets rank 25th in baseball with a .239 BA against lefties.
The key player for Skaggs to be wary of is of course David Wright. Since the start of last season, Wright has a 1.072 OPS against left-handed pitching, which ranks third-best in all of baseball behind Miguel Cabrera (1.169) and Andrew McCutchen (1.118).