AP Photo/Rick Scuteri
Howie Kendrick has been getting on base at a career-best rate so far this season.
Beginning Friday night, the Los Angeles Angels take on the Texas Rangers in a three-game series that marks a big early-season American League West test.
Last season, the Rangers dominated the Halos, winning 15 of the 19 games, including the final five meetings. In 11 of the 19, the Angels were held to three runs or fewer -- and they lost every one of those games.
Howie Kendrick
Past 2 Seasons
This season, the Angels have one of the best offenses in baseball, averaging 5.5 runs per game. One of the under-the-radar reasons why has been the hot start of Howie Kendrick.
Patience pays
The Angels' second baseman already has 12 walks this season. That isn't an exorbitant amount, but for the usually aggressive Kendrick, it is more than halfway to his total from all of last season (23) and more than a third of the way to his career high of 33, set in 2011.
As a result, Kendrick sports a .382 on-base percentage, which, if he can maintain it, would blow away his previous career best of .347. Manager Mike Scioscia has taken notice, too, moving Kendrick into the leadoff spot. In two games batting in front of Mike Trout, he has two hits and two walks in nine plate appearances.
Smoking sliders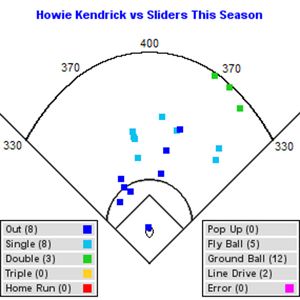 ESPN Stats & Information
A career .292 hitter, one pitch Kendrick has struggled to hit consistently has been sliders. In the previous five seasons, the right-handed-hitting Kendrick had a .242 batting average in at-bats that ended in a slider.
This season he is hitting .478 against sliders -- tops in the big leagues among players who have seen at least 20 plate appearances end with a slider.
Kendrick hasn't tried to do too much when he recognizes sliders -- all 11 of his hits against the pitch have gone directly back up the middle or the other way. When he has tried to pull the pitch, the result has been soft contact to the left side of the infield.
Friday's matchup
This new approach could be put to the test Friday, when Kendrick is slated to face Rangers righty Colby Lewis -- who features an above-average slider. Over the past three seasons, Lewis has thrown a slider 22 percent of the time, with opponents hitting .161. The league average over that span is .216.