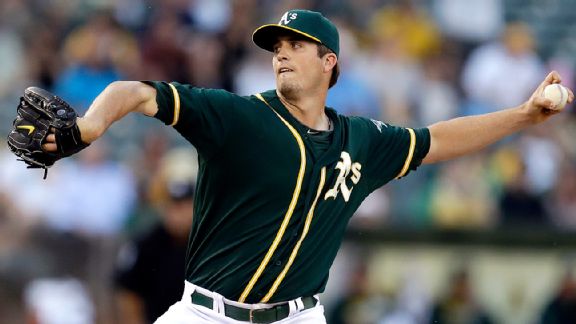 AP Photo
Drew Pomeranz has been dominant for the Oakland Athletics since joining the rotation.
The Los Angeles Angels have a chance to pick up ground on the team they are chasing in the American League West as they head to Oakland for a three-game weekend series.
Last season the Angels held their own by going 4-6 in Oakland. This season, despite ranking fourth in the league with a .421 team slugging percentage, they may have to manufacture more runs than they did last year when they hit 14 home runs in 10 games – five of which came from Mike Trout.
The Oakland Athletics pitching staff is tops in the big leagues with a 2.89 ERA. At home they are even better with a 2.75 ERA as O.co Coliseum is the seventh-best pitcher's park in baseball according to Park Factors.
On the mound for the Athletics on Friday is 25-year-old lefthander Drew Pomeranz, who came in a trade from the Colorado Rockies this offseason for Brett Anderson. Pomeranz has excelled in four starts for Oakland this season, allowing just two earned runs and 13 hits over 19 innings.
Still being stretched out as a starter, Pomeranz has yet to throw more than five innings in any game this season. In his most recent start, he was pulled after four innings after throwing a season-high 90 pitches.
So how should the Angels try to get to the former fifth-overall pick?
Be aggressive early in the count
Drew Pomeranz
This Season
This season opponents are hitting .462 against Pomeranz in the first two pitches of at-bats. Among pitchers who have made at least four starts this season, that is the ninth-worst in baseball.
But once you get to pitch number three, it is advantage Pomeranz, with opponents hitting just .132 against the lefty. Among pitchers to start at least four times this season, the only pitcher with a lower opponent's batting average once the count gets three pitches deep is Chris Sale (.101).
Lay off the curveball
To say Pomeranz's curveball has been effective this season would be a huge understatement. He has ended 24 plate appearances with a curve, striking out 11 and inducing 13 groundballs (three went for hits).
Pomeranz's throws a knuckle curve which his father taught him because he felt it put less strain on the arm than a traditional curveball. Pomeranz described the pitch in a 2011 interview with David Laurila of Baseball Prospectus:
"I hook my middle finger on a seam, and my thumb on one of the seams, and I push off the top of the seam, holding it kind of like a two-seam, but turned out to the front.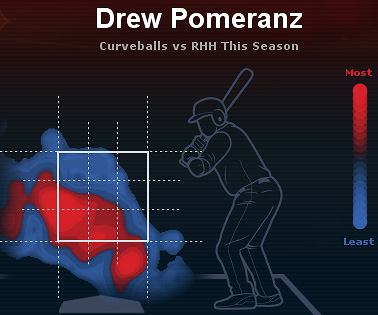 ESPN Stats & Information
My fingers that are on the top are like two legs that are crossing, and I just pretty much flick it straight forward, no wrist-breaking action or anything."
The knuckle curve has been especially effective against right-handed hitters as Pomeranz has been able to locate the pitch so it often lands on the low-outside corner or breaks towards the hitter's feet out of the strike zone. As a result, righties have just 1 hit in 16 at-bats with eight strikeouts against Pomeranz curveballs.