Stephen Dunn/Getty Images
Hector Santiago has overcome a bad start to his season to help solidify the Angels' rotation.
With injuries in the past few weeks to young starters Garrett Richards and Tyler Skaggs, the Los Angeles Angels rotation quickly became an area of need. Aside from replacing Richards' spot in the rotation (early signs look like Wade LeBlanc is the choice), the Angels need the other four starters to step up their game.
Hector Santiago This Season
One starter who has quietly lowered his ERA over the summer is Hector Santiago. He'll get the ball as the Angels open up their weekend series against the Oakland Athletics.
Santiago came over in the offseason as part of the Mark Trumbo trade that also netted Skaggs.
The lefty put up a solid 3.41 ERA from 2011-13 with the Chicago White Sox. But there were warning signs as his Fielding Independent Pitching (FIP) over that span was 4.49, suggesting he was more lucky than good.
Bad first impression
Those fears turned to reality quickly this season as the Angels lost Santiago's first seven starts of the season, with the southpaw tagged for six of those losses and a 5.19 ERA.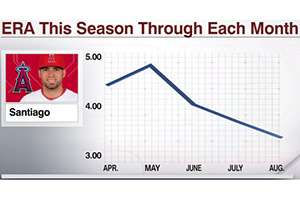 ESPN Stats & Information
Santiago spent most of May and June bouncing between the bullpen and the rotation. Since the initial demotion, his ERA has been less than half than it was in his first seven games.
Lately a stellar fastball-changeup combination has worked for Santiago. In his last 15 games Santiago has held opponents to a .161 BA in at-bats ending with a fastball and a .179 in at-bats ending with a changeup.
Getting straight A's
The Athletics have had plenty of trouble trying to hit Santiago this year. He has made two starts against them this year, both in Anaheim, allowing a total of one run and eight hits in 13 innings. That run came on a solo shot by Yoenis Cespedes who is no longer on the team.
Third baseman Josh Donaldson has really struggled against Santiago, striking out three times in six at-bats this season.