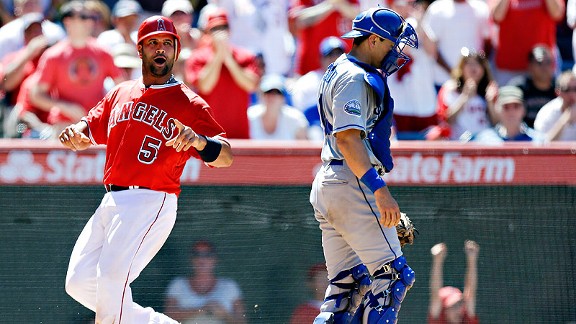 AP Photo/Chris Carlson
Albert Pujols celebrates after scoring on a single by Mark Trumbo during the seventh inning Sunday.
Monday morning, the Los Angeles Angels will board an airplane and travel three time zones east to begin a 10-game trip in the sticky air of Baltimore's Camden Yards. For about the past month, the only thing they've crossed has been lanes while driving to work. The only weather they've faced has been sunshine and refreshing breezes from the Pacific Ocean.
In other words, the test gets harder in the next few weeks. When the Angels returned home from Seattle on May 27, they were just beginning to hit their stride, still under .500 and wondering where this season that seemed so promising in February was headed by late spring.
After playing 21 of their next 24 games in Southern California, they finally hit the road this week as one of the most confident teams in the game, having gone 16-8 in this stretch and doing what they usually do -- paving over the National League. But, as usual when things change in this game, there's a certain fear of the unknown.
The next three series come against the Baltimore Orioles, Toronto Blue Jays and Cleveland Indians -- all above .500, all potential rivals for one of the league's two wild-card slots. They'll have to carry their momentum through a few security lines.
"I can't remember the last time I've been in a hotel room. It's been nice. I think we've really gelled the last month being together and being at home," outfielder Peter Bourjos said. "We did a lot of different things that kind of brought us together."
"It's going to be good to go out and play the East. Everybody in the division's got a pretty good record, so it's going to be fun and I think we can separate ourselves if we have a good series."
Manager Mike Scioscia saw his team finally forge an identity at home, capping strong starting pitching with stifling late-inning relief and supported by bats that have been thawing gradually as the weather grows warmer. Of course, July and August are the proving grounds in a major league season. This good stretch only sets the stage for what is to come, but for the first time, if the season ended today, the Angels would qualify for the playoffs.
"We need to keep growing," Scioscia said. "We're going to face tough clubs where we're going to have to go in and bring a level of play that's comparable to the way we've been playing the last three weeks or so. We match up well with the clubs we're going to play, but to win you have to play well."
Next season, the Angels welcome the Houston Astros to the AL West. Maybe that will remind them of their fondest time of the season, June's slate of interleague games. Since 2007, the Angels are 74-34 in interleague play. They went 12-6 this season, winning four of six from the Dodgers after Sunday's marathon 5-3 win.
And even if things get rocky over the next couple of weeks, the schedule sets up beautifully for the Angels. The All-Star break, on July 9-11, offers a respite during this grueling stretch.
If the American League manages to cool the Angels off in coming weeks, they won't be able to turn to any of their neighbors and complain. Their home town has treated them well.