Had Dan Haren struck out 16 more batters last year, the Angels would have finished with the two leading strikeout pitchers in baseball.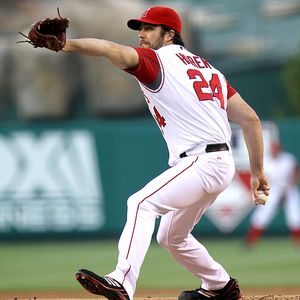 Stephen Dunn/Getty Images
Bill James projects Dan Haren will strike out more than 200 batters.
As it was, Jered Weaver led the majors with 233 and Haren was seventh with 216.
To put that in perspective, only four teammate tandems have led the majors in strikeouts since the expansion era began in 1961, according to the Elias Sports Bureau: Sandy Koufax and Don Drysdale (1962 Dodgers); Nolan Ryan and Frank Tanana (1976 Angels); Randy Johnson and Curt Schilling (Arizona Diamondbacks, 2001 and 2002); and Kerry Wood and Mark Prior (2003 Chicago Cubs).
So, yeah, it would have been a truly memorable feat in an utterly forgettable season.
It should tell us a little something about what the Angels can expect from their starting pitching in 2011, led by two of the steadiest right-handers in baseball and solid depth.
It also tells us a lot about how the rest of the team's 2010 season went. With a leaky bullpen, scant offense and uneven outfield defense, the Angels went 80-82 and finished in third place in the AL West.
After patching up one area of their defense (fielding), the Angels are hoping to repeat success in what is really the most important area of defense, starting pitching. If four of their starters can replicate (or nearly replicate) their 2010 seasons and one, Scott Kazmir, can improve even incrementally, the Angels easily could get back into contention.
They might even get into the conversation for best rotation in the league.
Of the Angels' five starters, only Kazmir had an ERA (5.94) above 4.00 last year, but most of the projections aren't as optimistic for 2011. According to Bill James, only two Angels starters (Haren and Weaver) will have an ERA in the 3.00s, and only Haren will strike out as many as 200 batters.
Here are James' 2011 projections for the Angels:
Pitcher W-L ERA IP SO
Jered Weaver 14-10 3.45 222 199
Dan Haren 15-12 3.52 238 209
Joel Pineiro 10-11 4.06 193 110
Ervin Santana 11-13 4.14 211 169
Scott Kazmir 8-10 4.22 162 150
Weaver's strikeout spike does seem a bit fluky since he had never reached 200 in his career before last season, but he did steadily increase his strikeouts from his rookie season in 2006 (105) to last season. They climbed every year.
And Weaver's 13-12 record doesn't reflect how well he pitched. A fly ball pitcher, he felt the sting of the aging, rickety outfield the Angels used for the first five months of the season. He also watched Angels relievers fritter away several of his wins. Because Weaver has improved steadily year by year, there's no reason to expect him to be suddenly unworthy of No. 1 status. Barring a physical setback in spring training, Weaver almost certainly will start opening day in Kansas City.
Even if Weaver does regress, Haren easily could take leadership of the rotation. He's been among the most reliable starters in baseball, even though he has crisscrossed between leagues like a slalom skier. In his eight seasons, Haren has averaged 216 innings. He hasn't missed his turn in the rotation since 2005, even after being struck on the right forearm by a Kevin Youkilis line drive in his Angels' debut.
Some pitchers struggle moving between leagues, especially going from the National to the American. Haren has now done it four times. He's pitched better for the Angels than did for the Arizona Diamondbacks. He is probably relieved to be away from a last-place team and pitching in his native Southern California.
Most people expected Joel Pineiro's performance to suffer when he switched leagues, but he hung in there. Pineiro's ERA went from 3.49 with the St. Louis Cardinals to 3.84 with the Angels, and it was his injury (a strained oblique) that might have been the finishing bullet to the Angels' chances last year.
Ervin Santana probably hasn't gotten his due, considering he won 17 games on a losing team and pitched a career-high 222 innings. James doesn't expect Santana to duplicate that season, probably in part because of his tendency to alternate good years with clunkers. Santana was mediocre in 2006 (4.28 ERA), awful in 2007 (5.76), excellent in 2008 (3.49), unreliable in 2009 (5.03) and good last year. He has to do it two years in a row before anyone will consider him a front-of-the-rotation type.
But Kazmir is the true X-factor. It was hard to tell at times last year which was lagging more: Kazmir's confidence or his stuff. His velocity rarely topped 90 mph (he used to throw in the mid-90s), and a once-devastating slider was only intermittently available. Late in the season, he admitted he watched film of his outings and didn't recognize himself.
The Angels already have begun the Kazmir reclamation project, urging him to change his offseason workouts, but they have alternatives if he struggles again. Trevor Bell or Hisanori Takahashi could jump into Kazmir's rotation spot if he struggles in April.
It will be surprising if starting pitching isn't the Angels' strength in 2011.