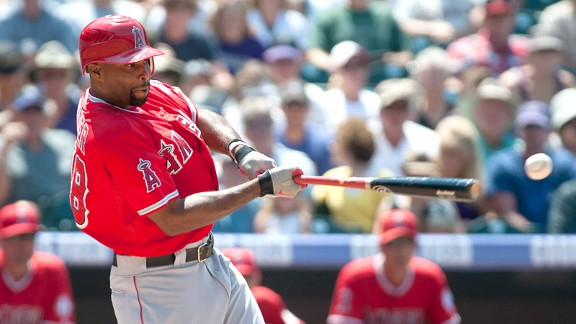 Dustin Bradford/Getty Images
Torii Hunter has hit .444 with a .500 on-base percentage since moving into the second spot.
On Sunday morning, the Angels hitters gathered in a Coors Field conference room. The topic of the day was how they were going to attack the pitching of 24-year-old Rockies starter Christian Friedrich.
Mike Trout turned to Albert Pujols for his thoughts.
Pujols, who had never faced Friedrich, started to mumble some generalities gathered off video and a scouting report. Trout volunteered that he had faced Friedrich last season in Tulsa while playing in the Double-A Texas League.
"I'm like, 'Are you serious? You're asking me?' " Pujols said. "And he said, 'I'm just checking on you to make sure you're doing your job.'"
The Angels tacked eight earned runs onto Friedrich's ERA and beat the Colorado Rockies 10-8.
"I think it went well that day," Trout said. "Any little thing you can pick up definitely helps."
That's how it's been lately around the Angels. A 20-year-old rookie can clown a future Hall of Famer with no fear of retribution. It helps, of course, when that 20-year-old rookie is playing like one of the best players in the league. A month ago, Pujols was grumbling about hitting coach Mickey Hatcher volunteering details of a hitters' meeting. Now, he's putting them out there himself.
It's amazing what a stretch of winning can do. The Angels are talking again, laughing again, even occasionally opening up.
It's amazing what a little offensive energy can do to facilitate winning. Spurred by Trout's relentless energy, the top of the Angels' lineup has been pulling this team along like a powerful steam engine. Trout keeps getting on base, Pujols keeps getting hits and the man sandwiched between them, Torii Hunter, is loving being in the middle of all the action.
In the past six games, right after manager Mike Scioscia put Hunter into the No. 2 hole, the Angels took off. It was an odd spot for a player who has hit more than 25 home runs five times in his career and drives in around 90 runs every season. But it was also a delightful place to hit, sandwiched between a burgeoning superstar swinging a hot bat and a future Hall of Famer rounding back into form.
The Angels have gone 5-1 with the new batting order. Hunter has hit .444 with a .500 on-base percentage, three home runs and nine RBIs. Trout has batted .407 with a .484 on-base percentage, seven stolen bases and 10 runs scored. Pujols has batted .440 with four doubles, a home run and six RBIs. It seems to be working pretty well so far.
Hunter could have complained about hitting in a spot that requires him to surrender at-bats to advance runners and might sap his power numbers in the long run, but at 36 most of his energies are focused on team objectives these days. And, besides, he said, he's not looking to shorten his swing and bounce one to the right side necessarily.
"I'm waiting for Trout to steal," Hunter said.
He says to ask him "in about five more years," and he'll tell you how he likes it, but for now he's rolling with the changes, especially if they keep this team rolling uphill.
"These pitchers are trying to get after me early and not thinking about walking me or anything like that," Hunter said. "They don't want to get to Albert and then they're really focused on Trout on the bases, so I'm seeing a lot more fastballs. Even the breaking pitches are not in the dirt, they're up.
"So, hitting in the second spot is not so bad. I kind of like it."
In the long run, three hot hitters, plus the steady power of Mark Trumbo, won't be enough to get this team to its goals. In a league with teams like the New York Yankees, Texas Rangers and Boston Red Sox -- where the No. 7 hitter often is capable of slugging 30 home runs -- the Angels will need to establish better offensive depth.
But right now, the Angels aren't playing the American League. They're off to their usual fast start in interleague play and hoping the bottom half of their lineup will come to life, one of these days. Maybe Erick Aybar's game-winning home run Wednesday night will signal the start of better offensive balance. Maybe Howie Kendrick will get back to hitting hard line drives into the power alleys again.
But then again, maybe all this hot hitting was a Coors Field anomaly rather than anything more lasting. Maybe in two weeks, Hunter will be back hitting in the fifth spot, and the Angels will be struggling to generate action at the top of the lineup. Maybe Trout will finally cool off.
"I don't know whether it's long-term, short-term or just kind of riding the bike until the wheels fall off," Hunter said. "But while we're at it, we might as well enjoy it."
That sounds like a plan.