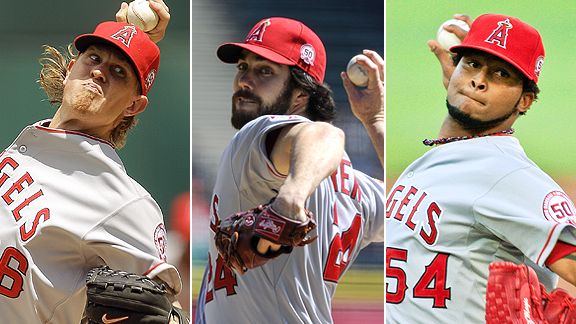 AP Photo, Getty Images
The top of the Angels' rotation isn't a concern. It's the 4 and 5 spots that could use some help.
New Los Angeles Angels general manager Jerry Dipoto will have a few days to unpack and settle into his new office.
Until Thursday, teams can only negotiate with their own free agents. The odds of the Angels bringing back Russell Branyan, Joel Pineiro or Fernando Rodney are infinitesimal. Branyan didn't play, Pineiro lost the ability to get American League hitters out and Rodney constantly grumbled about his lack of use.
By Thursday, Dipoto should have a pretty good idea of what he has, what he needs and what he's working with. He has a team with some promising building blocks, but encumbered by escalating salaries for aging players. He needs a veteran late-inning reliever and a starter. He would like a catcher and, perhaps, a power-hitting third baseman.
He's not working with as much as it once appeared he might. Angels owner Arte Moreno told reporters on Saturday he'd like to keep a lid on the payroll at $140 million and the Angels already have $99 million tied up in nine veteran players on long-term contracts. It will cost them about $20 million more to keep all their arbitration-eligible players, plus roughly $2 million more to sign all the young guys making the minimum.
That means, even if he can persuade Moreno to stretch the budget, he'll be looking at a roughly $19 million budget to address multiple needs.
This probably won't be a big-splash kind of winter in Anaheim, but it could be a pivotal one. Let's delve into some of Dipoto's needs:
Starting pitching
Few teams have a trio as solid as Jered Weaver, Dan Haren and Ervin Santana to build around, but the fourth and fifth spots raise questions. Jerome Williams, after resuscitating his career by circumnavigating the baseball world, probably pitched well enough to get first crack at one spot.
Youngsters like Tyler Chatwood and Garrett Richards could compete for the fifth spot, but they could also provide the depth in Triple-A that the Angels so badly lacked last season. Manager Mike Scioscia has indicated that building starting pitching depth will be a focus this offseason.
Starting pitchers don't come cheap and signing them tends to be risky. If the Angels hope to save money for other projects, they won't be able to splurge on the high-end targets like C.J. Wilson, Jason Marquis or Mark Buehrle. They might have to take a risk on an older pitcher, say Hiroki Kuroda, or an injury-plagued one, like Rich Harden, and hope to get them on a one- or two-year deal.
Relief pitching
It looks like a buyers' market for late-inning relief, which could play perfectly into the Angels' plans. Even if pitchers like Heath Bell, Matt Capps and Jonathan Papelbon are out of the Angels' pay range, there are some solid possibilities to fortify the back end of games and take some pressure off second-year closer Jordan Walden.
Kyle Farnsworth, Frank Francisco, Ryan Madson, Luis Ayala, LaTroy Hawkins and Brad Lidge are among the free-agent relievers hitting free agency in the coming days. The Angels could even try to sign Octavio Dotel from the world champion St. Louis Cardinals and set a major league record in the process. They would be Dotel's 13th team, setting a record for journeymen.
With Scott Downs and Hisanori Takahashi in the fold, the Angels appear set with left-handed relief.
Third base
Quietly, Alberto Callaspo led the Angels in batting average (.288) and on-base percentage (.366) last year. He played above-average defense at third base. It certainly wasn't his fault the Angels didn't score enough runs.
Fans have been clamoring for a third baseman with some pop (Callaspo had six home runs and slugged only .375), but the Angels might be perfectly willing to ignore it. For one thing, they're asking young slugger Mark Trumbo to work on playing third base. If Kendrys Morales finally returns from that broken left ankle, they'll need some way to accommodate both bats in their lineup and third base is one obvious outlet.
Now that the Chicago Cubs' Aramis Ramirez is a free agent, rumors will begin popping up about the Angels' interest, but ultimately his reputation for having a surly attitude and his price tag make him an unlikely get. The dream scenario is to trade for Evan Longoria or David Wright, but is it worth giving up Mike Trout and a handful of other promising young players?
Catcher
Is Scioscia's expertise becoming a handicap? His emphasis on pristine defense from his catchers already contributed to one of the Angels' worst moves -- the trade that sent Mike Napoli, indirectly, to the Texas Rangers and saddled the Angels with the Vernon Wells contract.
That left the Angels with the worst-hitting assortment of catchers in the major leagues, led by Jeff Mathis, who always looks good behind the plate, but batted .174.
Scioscia placed so many demands on young catcher Hank Conger that the pressure seemed to affect him. Conger was optioned back to Triple-A and, when he returned, barely budged from the bench. Like Napoli, Conger has the potential to be a premium offensive catcher -- and a left-handed hitting one, a rare commodity.
Either the Angels invest themselves in Conger, at last, and live with a few defensive growing pains or they go out and sign a proven veteran, say Rod Barajas, Ramon Hernandez or Gerald Laird.
It's hard to predict what the Angels will do behind the plate in 2012, but Scioscia has already vowed it won't be a repeat of last season. Angels fans can finally exhale.