Frank Victores/USA TODAY Sports
Josh Hamilton will look to punish his former team this weekend in Texas
Welcome to the first Halo Effect of the season -- a weekly stats-based post on the Los Angeles Angels. Sample sizes are obviously extremely small, but here are some things that stood out in the first series of the season: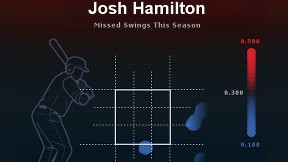 ESPN Stats & Information
Hamilton pressing?
It has only been three games, but so far Josh Hamilton hasn't been productive at all for the Angels. Cincinnati Reds pitchers attacked Hamilton with a steady diet of offspeed pitches once they got him into two-strike counts -- holding him 0-for-4 in the series -- all on strikeouts in those situations. A look at his missed swings this season show a lack of plate discipline as he has consistently chased pitches away. Hamilton will look to turn things around this weekend as the Hamilton Reunion Tour continues against another former team, the Texas Rangers.
Can Pujols still handle the heat?
Albert Pujols got off to an extremely slow start last season with the Angels. A myriad reasons can be blamed, but one thing to watch for this season, and as he continues to age, is Pujols' ability to turn around fastballs. In his last season in St. Louis, Pujols missed making contact on nine percent of pitches that were clocked at 95 mph or faster. Since joining the Angels he has swung-and-missed on 20 percent of pitches of that velocity.
LoweThe Lowe down
New bullpen addition Mark Lowe has quickly gained Mike Scioscia's confidence. He has pitched two separate two-inning stints without allowing a hit and has struck out out four. Lowe is primarily a fastball/slider pitcher and so far his slider has been extremely effective as opposing hitters have missed on 62.5 percent of swings against it. The Angels need someone to step up in middle-relief this year as the team's 3.97 bullpen ERA in 2012 was the third-worst in the American League.
Today's matchup
Jason Vargas (LAA) vs. Derek Holland (TEX), 11:05 AM PT
Jason Vargas makes his Angels debut after spending his last four seasons with the Seattle Mariners. Vargas' fastball averages only 87 mph, but it does enough to set up Vargas' best pitch, which is his changeup. He throws the change a quarter of the time and in the last four seasons, opponents have hit .192 in at-bats ending with the pitch.
The Rangers will counter with Derek Holland. The lefty has struggled in his career against the Angels with an ERA of 5.58 and a .828 OPS.