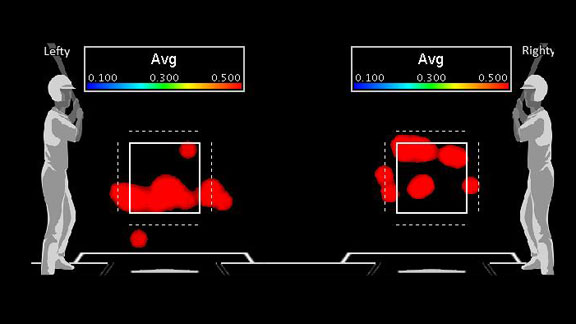 Pitch locations for two-strike hits vs Jordan Walden in 2011.
Click here to create your own Walden heat mapsIf the Angels do intend to move forward with Jordan Walden as their closer in 2012, what's the one area most important to watch in his performance?
Statistically speaking, it's his ability to get hitters out once he gets to a two-strike count.
That's what most separated Walden from the Jonathan Papelbon, Mariano Rivera and Craig Kimbrels of the world.
Last season 19 closers, including Walden, saved at least 30 games. Walden's rank among those 19 pitchers in opponents' batting average, on-base-percentage, and slugging percentage with two strikes were 18th, 17th, and 19th, respectively.
Jordan Walden
2011 Season
Walden fared considerably better when combining his numbers in all other counts (sixth in both opponents' batting average and slugging percentage, and 15th in on-base percentage.)
Walden's failure to match up with the game's elite closers in two-strike counts cost him save conversions throughout 2011.
Remember that goofy five-hour, 13-inning marathon in Boston last May 4th? Walden had the lead and a two-strike count on five hitters in the ninth inning. He only retired one in blowing that save chance.
On June 26 against the Dodgers, Walden had a one-run lead in the ninth inning, and was ahead 1-2 on leadoff man Juan Uribe before walking him.
Opponents w/ 2 strikes
vs Notable AL Closers (2011)
The Dodgers would tie the game on a two-strike sacrifice fly by Aaron Miles and win it on a single by Tony Gwynn Jr, who battled back from an 0-2 hole.
On September 25, he blew a 5-2 ninth-inning lead, with the tying hit coming on a Kurt Suzuki line drive with two strikes. The Angels would lose, 6-5.
Those are two of the seven times in 2011 that a two-strike hit or walk played a pivotal role in a Walden blown save or loss.
Specifically, the greatest separation between Walden and the elite closer in two-strike situations is in Walden's second pitch -- his (sometimes) nasty slider.
Walden's average fastball velocity (98 miles-per-hour) was third-best in the majors. But his 10 strikeouts-per-nine innings ranked only 25th. That may have been due to a lack of effectiveness with the slider.
If a hitter chose to swing at Walden's two-strike slider, he usually missed it. The problem is that Walden couldn't tempt enough hitters into swinging at it.
Walden threw slightly less than half of his two-strike sliders (49.3 percent) for strikes, because hitters wouldn't chase it. Inside Edge video scouting keeps a "chase rate" stat, to judge how often hitters swung at pitches out of the strike zone. Walden's 30 percent chase rate with his two-strike slider was among the lowest in the majors, far below the big league average of 46 percent.
Walden ranked last among those 19 closers, and among the worst relievers in baseball at throwing his secondary pitches (be they curves, sliders, changeups, or splitters) for a strike in a two-strike situation.
That put him in a position in which he had to rely on his two-strike fastball, and as he learned the hard way from the likes of Gwynn and Suzuki, that major league hitters can catch up to a 97 mile-per-hour fastball.
The batting average on play against Walden's two-strike fastball was a little above average, so perhaps bad luck came into play a couple of times. But if Walden could throw his slider for strikes more often, he wouldn't need to be as reliant on his defense or for the luck to go his way.
Walden got three outs with a two-strike fastball for every out he got with a two-strike slider. The ratio of his fellow young closers, like Drew Storen of the Nationals, and Kimbrel for the Braves, is much closer to 1-to-1.
There were days where Walden looked like the second coming of Francisco Rodriguez, such as when he whiffed the side against the Mets in mid-June with an array of nastiness.
If Walden, who will be in only his third major league season, can find that sort of success more often, it would be a major boost to the Angels hopes of winning the AL West in 2012.