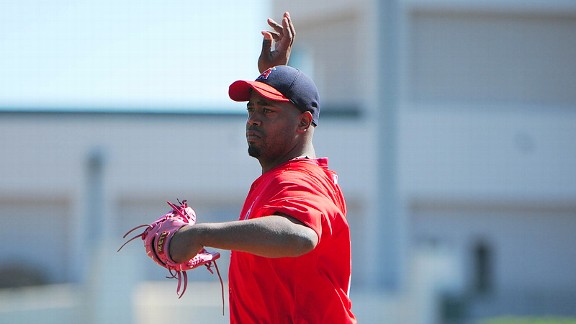 Kyle Terada/US Presswire
The following is a list of cities, towns, regions, states, territories and countries that Jerome Williams has pitched for: Fresno, San Francisco, Iowa, Chicago, Harrisburg, Columbus, Rochester, Washington, Inland Empire, Las Vegas, Long Beach, Sacramento, Salt Lake, Los Angeles, Venezuela, Puerto Rico, Mexico and Taiwan.
And that's just the last six years.
The journeyman probably isn't going to let a spring training injury knock him off his path.
When Williams pitches in a minor-league camp game today for the first time since straining a hamstring March 2, with just enough time to wrestle back the fifth starter job from up-and-comer Garrett Richards, think about all the places he's been. Traveling to a back field to pitch to Triple-A players isn't that big a deal.
One spot on Williams' itinerary stood out as the turning point of a career that once appeared pointed straight up, then plummeted: Taiwan, where he finally learned how to work.
Pitching for the Uni-President Lions, Williams didn't have much choice. At 22, he had let himself balloon to 270 pounds. That wasn't going to cut it overseas. The team was under pressure to use its native players if the foreigners struggled. Williams looked around and saw how hard his Taiwanese teammates were working. His goal was to sign a contract to pitch in Japan and earn a little money before the dream ended, so he found his motivation.
"That's all they do is throw, run and work out," Williams said. "I had to get on that routine, because I want my arm to be strong every time I'm out there."
A funny thing happened. All that throwing and working out helped Williams reconnect with his fastball. He wasn't reaching the mid-90s as he had as a rookie with the San Francisco Giants, but he could touch 91 and 92 mph, a crucial 3-4 mph above what he could reach in his meanderings through the bush leagues.
Williams, 30, went 17-2 last year between independent ball, Triple-A and Anaheim.
Pitchers in Taiwan threw 200 pitches between starts. In the majors, most pitchers throw 30 to 40. Williams has split the difference, throwing anywhere from 80 to 100 pitches.
"I was always labeled a lazy worker, just riding my talent," Williams said. "Once I figured it out over there, I was like, 'Whoa, I should have done this a long time ago.' "
It might have saved him a few miles.