Carlos Bocanegra had his fair share of highlight moments during the 2010 FIFA World Cup in South Africa but perhaps the most surreal moment came moments after Landon Donovan had dramatically scored the game-winning goal to beat Algeria in extra time (and help the United States capture their group for the first time since 1930).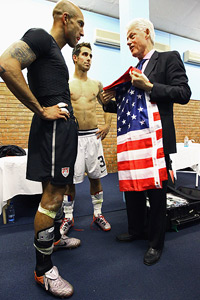 Icon SMI
Former President Clinton celebrated with Bocanegra and Tim Howard after the big U.S. win over Algeria.
In what would become one of the most indelible images of the tournament, at least Stateside, Bocanegra, the captain of the US Men's National Team, stood shirtless in the locker room after the game with former President Bill Clinton, enjoying a couple Budwesiers.
When I saw Bocanegra in the Dodgers' dugout before he threw out the first pitch Thursday night, I asked him about the picture and a smile quickly came over his face as he thought back to that night in Pretoria, South Africa two weeks ago.
"He was cool, man," said Bocanegra, an Upland, Calif. native who grew up as a Dodgers fan. "He came into the locker room and congregated everybody and we're like, "Hey, you want to have a beer with guys and celebrate," and he was like, "Yeah, totally, yeah," so he had a beer with a few of the guys and we took some pictures with him. He was awesome."