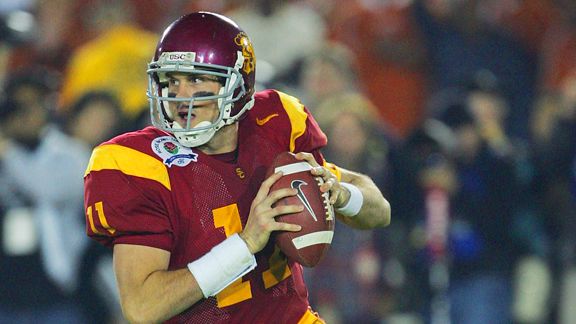 Stephen Dunn/Getty Images
Some records may be erased, but former USC QB Matt Leinart isn't giving up the memories.
Arizona Cardinals quarterback Matt Leinart held his fourth annual "Bowling with the Stars" event at Lucky Strike Bowling Alley in Hollywood on Friday and while there weren't many stars there (can anyone out there tell me who BC Jean, Carly Craig, Cassie Scerbo, Gina Holden or any non-athlete in this gallery) there was plenty going on inside and here are three things I took away from the party as I prayed there were no television executives in attendance who would take this "Bowling with the Stars" concept to prime time TV.
***
1. Reggie Bush attended the Leinart's event and Leinart and the other USC players who were there (Keith Rivers, Thomas Williams and Brandon Hance) didn't blame Bush for being responsible for USC vacating its victories from December 2004 through the 2005 season and being banned from the postseason for two years. Bush and Leinart chatted before Bush joined Vince Young and Shawne Merriman at the middle bowling lane and took a couple of pictures. Leinart said he and Bush still talk regularly and the sanctions don't change the way he or his teammates view him.
"Me and Reggie are very close and we talk all the time," Leinart said. "I actually saw him a few times this week. It's a tough time for him and he took this pretty hard but I'm proud of him. He's held his head up high and he's continued to move on. It's five years ago and you have to move forward."
***
2. New Miami Heat forward Chris Bosh is already preparing for his South Beach look while he's in Hollywood. Bosh showed up to the event in a blue dress shirt with the sleeves rolled up, torn khaki shorts and sockless canvas shoes. The last time I saw Bosh was during a blizzard in Toronto and when I reminded him of that while we stood at the bar he laughed and nodded his head. "Yeah, that was fun," he said. "I'm glad I can wear this more often now.
***
3. I really should be better at keeping up with the happenings in the pop culture world but I had no idea who Kellen Lutz was before last night. As the photographers on the red carpet snapped away like crazy and girls on the sidewalk squealed as if they had seen Brad Pitt (see out of touch I am) I was trying to figure out who had arrived. So apparently Lutz played Emmett Cullen in The Twilight film series. I don't know what that means but I do know it's a big deal because I remember hundreds of people camping outside at LA Live for close to a week before The Twilight Saga: Eclipse premiere. Anyway, Lutz chatted with Leinart at the event and while I couldn't hear what they were saying I can tell you they do share one thing in common: neither is a particularly good bowler although Leinart would be the first to tell you that.