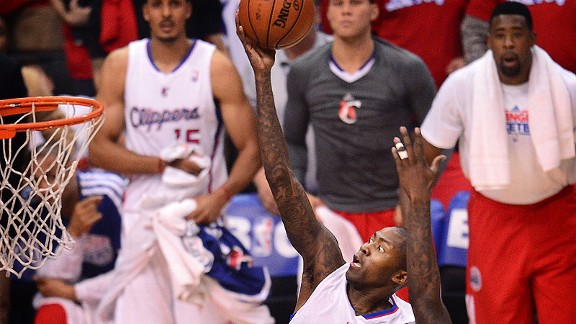 Fredrick J. Brown/AFP/Getty Images
The Los Angeles Clippers enjoyed their best season in franchise history, winning their first division title, a record 56 games, going on a 17-game winning streak and sweeping the Lakers for the first time. Their postseason, however, wasn't as memorable, ending in four straight losses after taking a 2-0 series lead on the Memphis Grizzlies. We'll take a step back and try to grade what each player brought to the table, beginning with the bench. Check back for grades on the starters and the Clippers' coaching staff and front office.
JAMAL CRAWFORD
Crawford didn't come into this season with any grand personal expectations other than winning after signing a four-year, $25 million contract last summer with the Clippers, but it didn't take him long to change his tune. Crawford expected to be selected as an NBA All-Star for the first time in his career and to win his second NBA Sixth Man of the Year award by season's end. Neither goal was achieved, but it didn't take away from the incredible season Crawford had.
"It's more about winning than anything," Crawford said. "I know a lot of people say go out there and prove why you should win this or that, but I feel I've been proving it all season. So it's not about that. You just want to go out and win."
When Crawford was on, the Clippers and their bench were at their best. He was second on the team in scoring and ranked third in the NBA this season in fourth-quarter scoring, behind Kevin Durant and Kobe Bryant. He led the league in 20-point games off the bench and was second in the league in fourth-quarter plus-minus, finishing just behind LeBron James. He also was atop all NBA reserves in scoring per 26 minutes and in simple plus-minus.
Stats
16.5 PPG, 1.7 RPG, 2.5 APG, 1.1 SPG, .438 FG, .376 3FG: After a couple of rough seasons in Atlanta and Portland, Crawford returned to the old form he had when he won the Sixth Man of the Year award with the Hawks in 2010 and nearly won the award this season, finishing second.
Outlook for 2013-14
Crawford might be one of three Clippers pieces likely set in stone if Chris Paul ends up re-signing. The Clippers believe they have arguably the best point guard, power forward and sixth man in basketball with Paul, Blake Griffin and Crawford. Everything else is negotiable. Expect to see plenty of names end up in trade rumors this offseason but no serious one will include Crawford, who has three more years on his deal and who could contend for an All-Star appearance or two or a Sixth Man award during that time.
Grade
A: He may not have had the best postseason (no one on the Clippers did) but it's hard to ask for a better regular season from a bench player.
ERIC BLEDSOE
Arguably the best backup point guard in the NBA had another solid season and showed why he should be starting on another team if Paul re-signs with the Clippers. When Paul went down with an injury during the regular season, Bledsoe stepped in and averaged 8.5 points, 3.0 rebounds, 3.1 assists and 1.43 steals in starts.
"Bled is one of the best guards in our league," Paul said last month. "I've said it all season long. I'm enjoying playing with him right now because there's no way he can be here next year because we probably won't have enough money to pay him. He should be a starting point guard in this league next year."
The Clippers don't need to deal Bledsoe in the offseason but once Paul re-signs they'd be wise to start looking for suitors. One of the more popular destinations has been Boston in a package that would include DeAndre Jordan for Kevin Garnett. Considering Bledsoe had 23 points, 10 assists and seven rebounds against the Celtics earlier this season, it's not hard to see why Boston would be interested.
Stats
8.5 PPG, 3.0 RPG, 3.1 APG, 1.4 SPG, .445 FG, .397 3FG: Bledsoe's statistics took a massive jump from his sophomore season when he battled back from knee surgery.
Outlook for 2013-14
Bledsoe's future with the Clippers really hinges on Paul's decision this offseason. If he decided to stay, the Clippers would be wise in looking to deal the up-and-coming point guard for pieces that will help the Clippers compete for a championship this season with Paul. If Paul decides to leave, Bledsoe immediately becomes the team's new starting point guard and they would move forward with Bledsoe and Griffin, while trying to add another big piece in free agency.
The smart money is on Paul saying, and the Clippers shipping Bledsoe in a package that would net the Clippers an experienced player who would help them compete for a championship.
Grade
B: Bledsoe's continued improvement is a big reason the Clippers have been careful not to trade him too soon. He is their safety net if Paul bolts, but he is also their most intriguing bargaining chip when they enter the trade market, looking for pieces to add to the team this summer if Paul stays.
MATT BARNES
The last player signed before the start of Clippers training camp to a veteran's minimum deal ended up being one of the most productive players off the bench and the team's leading scorer and rebounder in their last playoff game. Barnes played in all but two games this season (both due to suspension) and averaged a career-high 10.3 points and 4.6 rebounds. He was one of the most consistent contributors off the bench, along with Crawford and Bledsoe.
Stats
10.3 PPG, 4.6 RPG, 1.5 APG, 1.4 SPG, .462 FG, .342 3FG: It was a career season for Barnes after two disappointing seasons with the Lakers. He seemed to thrive after doubters said he was finished and many teams passed up on him in the offseason when he was a free agent.
Outlook for 2013-14
Barnes is again a free agent but the chances of him being available a couple of weeks before the start of training camp for the minimum are slim to none. He'll want a multiyear deal with a hefty raise and the Clippers are likely to give him one after letting him feel out the market. Despite his solid season, Barnes is 33 and has played for eight teams in 11 seasons. He's not going to get a huge offer elsewhere and would like to stay in Los Angeles to be with his family. Barnes said during his exit interview that Paul has already started to recruit him to return next season.
"Chris and I have already been talking about it," Barnes said. "We talked about it on the plane last night. He's obviously the franchise player but we also talked about what I was thinking about doing. Without giving anything away, he was doing his job (in recruiting me)."
Barnes would once again be a key in the Clippers' second team and would likely see an even more prominent role if the Clippers end up dealing Bledsoe and/or Caron Butler in the offseason.
Grade
A: If you look at his production in relation to his salary, it's hard to ask for much more from a guy making the minimum.
LAMAR ODOM
The Clippers acquired Odom in an offseason trade for Mo Williams and for much of this season, you had to think there must have been any number of trades that would have given the Clippers a better return for the former All-Star guard. There might even be some who still wonder that today.
Odom came into training camp a good 30 pounds overweight and it wasn't until about midseason that he returned to his former playing weight. He would turn out to be a solid player for the Clippers off the bench and was one of only two players on the team who played in all 82 games.
However, he never regained his old form offensively, averaging just four points per game. He shot just 39.9 percent from the field and was a dreadful 20 percent from beyond the arc.
Stats
4.0 PPG, 5.9 RPG, 1.7 APG, 0.8 SPG, .399 FG, .200 3FG: If you just look at his offensive stats, it was a dreadful season for Odom but he began to make his mark during the second half of the season on defense and as a facilitator and was one of the locker room leaders.
Outlook for 2013-14
If Odom would like to return to the Clippers next season, he'll have to take a massive pay cut from the $8.2 million he earned last season. In fact, if he wants to be on any team next season he'll probably have to accept a quarter of that amount.
Odom said he wants to stay in Los Angeles and we all saw what happened the last time he tried to play outside of the city (he still says he's sorry, Dallas) so it would appear Odom is likely to return next season. Odom is no longer a Sixth Man of the Year candidate but if he can improve on this season and come into next season in shape, there's no reason he can't be a valuable player off the bench at the right price.
Grade
D: Odom got an F during the first half of the season and a C during the second half of the season so that averages out to about a D. Either way you look at it, his production was far too low for a player making $8.2 million.
GRANT HILL
When Hill was a free agent this summer, he looked destined to sign with the Los Angeles Lakers and join his former teammate with the Phoenix Suns, Steve Nash. Instead, Hill came to Los Angeles and signed with the Clippers after being heavily recruited by Paul and several other players and coaches on the Clippers.
Unfortunately for Hill, much like Nash's season with the Lakers, he spent most of it on the sideline while battling back from injuries. The 40-year-old Hill played in only 29 games this season and didn't see the floor during the postseason until Game 6, which could end up being his last game in the NBA if he decides to retire, something he hinted at most of the season.
Stats
3.2 PPG, 1.7 RPG, 0.9 APG, 0.4 SPG, .388 FG, .273 3FG: This was easily Hill's worst season in the NBA and one of the biggest reasons it could be his last. While Hill was injured, there were many games where he didn't play because of a coach's decision and simply fell out of the rotation. It was the first season of his career that he did not average at least double figures in scoring.
Outlook for 2013-14
Despite having his worst season as a pro and hinting at retirement, Hill is under contract next season and said he would be open to the possibility of returning after feeling healthy by the end of this season.
"I feel as good as I've felt in the last two years," Hill said. "That may mean you should continue to play or get out while you're healthy, but I do feel great. It certainly may factor into what I may do going forward."
If Hill does come back it would largely be as a locker room leader and a reserve but it would be hard to imagine the Clippers relying much on Hill, who is the oldest active player in the NBA.
Grade
D: Injuries derailed Hill's season early but he was thought of as one of the Clippers' key additions in the offseason and never quite regained the form he had in Phoenix.
WILLIE GREEN
It's hard to even call Green a reserve considering he started 60 games this season at shooting guard in place of Chauncey Billups. The problem for Green was that when Billups did start, Green wasn't just a reserve; he moved to the end of the bench. Even while Billups struggled in the playoffs, Green barely saw the floor until Game 6.
If Billups returns to the Clippers, as he has said he wants to, it would be hard to imagine Green being comfortable with the same role again. Not so much being on the bench, as he's not likely to be a starter elsewhere, but being the last guy on the bench if Billups is able to play.
Stats
6.3 PPG, 1.3 RPG, 0.8 APG, 0.4 SPG, .461 FG, .428 3FG: Green had a solid season and filled in admirably for Billups, who was out for much of the season while recovering from a ruptured Achilles and various other injuries.
Outlook for 2013-14
Green is under contract for next season and considering he's like family to Paul, he's likely to return if Paul does, which is expected. Green, however, would like a more stable role in the rotation, which might be possible if Billups is a more stable starter.
Green deserved a spot in the regular rotation, especially at the end of the season, as he led the NBA in 3-point shooting from March 10 until the end of the season and had the highest 3-point shooting percentage at home of any player in the postseason. Unfortunately he never got a chance to show what he could do in the playoffs.
Grade
B: Green was a solid addition and the Clippers couldn't have asked for much more as he was essentially asked to be a starter one night and the 12th man the next, depending on Billups' health. Few would have been able to handle that kind of a situation as gracefully as Green did.
RONNY TURIAF
When it comes to energy guys on the court and cheerleaders on the bench, few are as good as Turiaf. His finger twirl after big rebounds and put-backs were a staple of every Clippers blowout win and he is one of four players on the Clippers' roster who has a championship ring to his name.
Stats
1.9 PPG, 2.3 RPG, 0.9 APG, 0.3 SPG, .505 FG, .000 3FG: Outside of the four games he played in Washington last season, this was the least productive season of Turiaf's eight-year career.
Outlook for 2013-14
Turiaf has been with five teams in the past four seasons so the smart money would be on him being elsewhere next season.
Grade
C: Turiaf made the most of the opportunities he had this season, which weren't much.
RYAN HOLLINS
Much like Turiaf, Hollins was a big man signed to a veteran's minimum contract before the season and found it hard to get into the regular rotation. Hollins showed glimpses of the player he was at UCLA when he had 13 points and eight rebounds against Orlando with the Clippers missing three starters because of injuries.
Stats
3.4 PPG, 2.3 RPG, 0.2 APG, 0.1 SPG, .614 FG, .00 3FG: Outside of his rookie season in Charlotte, this was Hollins' least productive season in the NBA.
Outlook for 2013-14
Hollins has played on five teams over the past five seasons, and it's likely he'll be with his sixth team next season.
Grade
C: Hollins played well when given an opportunity.
DAJUAN SUMMERS & MAALIK WAYNS
Both players were signed to a couple of 10-day contracts at the end of the season before being kept on through the end of the regular season and the playoffs. Vinny Del Negro did not hide the fact that both players were essentially "practice bodies" on a team battling injuries.
Stats
SUMMERS: 1.0 PPG, 1.0 RPG, 0.5 APG, 0.0 SPG, .250 FG, .000 3FG: He played in two regular-season games for a total of seven minutes.
WAYNS: 2.7 PPG, 0.2 RPG, 1.0 APG, 0.1 SPG, .264 FG, .200 3FG: He played in six games, averaging about six minutes in garbage time.
Outlook for 2013-14
The Clippers may give both players a look in training camp if they haven't signed on with another team, but neither player figures into the Clippers' plans.
Grade
INC: It wouldn't be fair to give grades to two players signed at the end of the season who played a combined eight games.