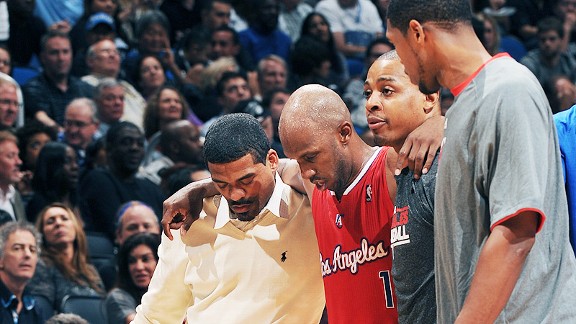 Andrew D. Bernstein/NBAE/Getty Images
When Chauncey Billups fell to the floor with a left Achilles injury late in the Clippers' 107-102 win over the Orlando Magic on Monday, the Clippers' chances at contending for a title might have collapsed right along with him.
Billups may no longer instill fear in opposing defenses like he used to, but the veteran typically provided safe decision-making, helping to stabilize an offense that went through wholesale renovations this offseason. Billups, who has played point guard for the large majority of his 15-year career, made the most drastic change of any Clippers player this season by moving off the ball and playing shooting guard almost entirely. Although he may have struggled with the adjustment to the new position as a whole (he's shooting only 35.9 percent from the field), the 35-year-old still represented the best overall option available, particularly when considering his cheap price tag of $2 million a year.
Despite the ugly field goal percentage and the declining numbers across the board, Billups began to find that his most successful moments on the floor came as a spot-up shooter. According to Synergy Sports, Billups has scored 1.29 points per possession in spot-up situations this season, which ranks him 15th among all eligible players. Even with his declining athleticism betraying him a bit, Billups' shot never truly left him.
When Billups took a backseat to Chris Paul and served primarily as a spot-up perimeter threat capable of making the correct swing pass, the Clippers' offense morphed into one of the best in the league. It's no coincidence that some of Billups' best personal moments came in that setting. Whether it was by nailing a 3-pointer to beat Dallas or by willing the team to victory with 33 points in a homecoming game against Denver, Billups showed he was still capable of big things offensively. Although his reputation as Mr. Big Shot has been overblown for years, Billups was able to gain the trust of Paul late in games -- an important factor in the Clippers pulling off close wins this season.
But even without the services of Billups, the Clippers will still be able to trot out an imposing offensive unit. With Billups in the starting lineup, that unit puts forth an offensive rating of 114.6 in their time on the floor, according to BasketballValue.com. But with Mo Williams working in the place of Billups, the offensive rating shoots up to 125.8. It's feasible that, even with Randy Foye picking up more of the minutes, the offense won't suffer much of a drop-off, if any at all.
Of course, offensive production isn't the reason losing Billups for a significant amount of time would be so detrimental to the Clippers' title chances. The real hit will be taken on the other, less glamorous side of the floor.
Billups may not be the quickest or the greatest on-ball defender, but he certainly knows where to rotate and how not to make mental errors. The Clippers as a team haven't been exactly great on the defensive end as is (23rd in defensive efficiency), and losing Billups will likely only make them worse. Remember how much better the Clippers are as an offensive unit with Williams in the place of Billups? The opposite is true for the defense. The Clippers' defensive rating balloons to 121.3 instead of 97.2 with Williams playing in the place of Billups. That's an unfathomable swing rarely seen by replacing just one player, but it's an indication of the value Billups has provided on the defensive end.
Because of the defensive issues a backcourt as small as Paul/Williams presents, Foye will likely see most of the starts in the absence of Billups. Unfortunately, there aren't many statistical measures that indicate Foye will be much of an upgrade at all. This season, Foye has a worse PER rating, true shooting percentage, rebound rate, assist rate and turnover percentage. Although he's a decent defender capable of guarding up in terms of size, Foye's affinity for taking long 2s offensively serves as a stark contrast for Billups' usual offensive diet that consists of taking 3s and drawing fouls. The Clippers were already a team dependent on deep jumpers -- but without Billups, it suddenly becomes their identity. It might be hard to believe, but Billups, at age 35, is actually second on the team behind Blake Griffin in free throw attempts per game (4.8).
Although it's harder to quantify, losing Billups for a significant amount of time also deprives the Clippers of veteran leadership and championship experience. Billups was the key to containing former teammate Kenyon Martin on the floor, a player with a history of being a tad volatile. In some ways, Billups was also the crutch for Paul to lean on -- a player who could run the offense and allow Paul to save his energy for the game's more critical moments.
Maybe most importantly, the Clippers lose the gamesmanship Billups brings to the floor. No one works referees and accumulates foul calls quite like Billups does. There are things he gets away with on a nightly basis that no other player can. It may be cliché, but it's true -- sometimes there's simply no replacement for repetition.
With depth issues, other injury concerns and no true shooting guard, losing Billups may prove to be the first and final blow to the Clippers' short-lived title chances.