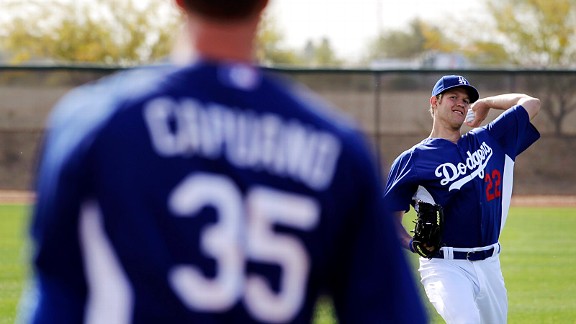 AP Photo/Jae C. Hong
Clayton Kershaw, right, throws to Chris Capuano during a spring training workout Wednesday.
Spring training workouts tend to be mundane, and that includes the first one, which for Dodgers pitchers and catchers took place on Wednesday. Half the pitchers threw bullpens, with the other half scheduled to do the same tomorrow (except Ted Lilly, who will arrive late because his wife gave birth Tuesday). No one's arm fell off. That's pretty much all you need to know.
Mostly, then, for those of us who weren't actually participating, that first workout was a chance to renew acquaintances after the long winter and, while standing on the sideline, engage in a few conversations. For me, this year, it also was a time to field comment after comment about the length of my hair.
The day began with the usual standing around the clubhouse, for which the daily beat crew was joined by a couple of national writers I hadn't seen since the winter meetings. We met with Ronald Belisario, and he admitted he had tested positive for cocaine, which was why he couldn't get a visa to come to the U.S. last year and join the Dodgers.
Then they closed the clubhouse for a meeting, so we returned to the media workroom to write the Belisario story. I filed just in time to make manager Don Mattingly's morning media briefing. While waiting for Mattingly to emerge, I spent a couple of minutes chatting with assistant general managers, Logan White and DeJon Watson.
Then it was out to the back fields, where a couple of us cornered general manager Ned Colletti for a couple of quick questions and wound up having a casual conversation that lasted about 45 minutes. That's fairly common with Colletti, a former sportswriter who has an easy, relaxed way about him and likes to spin a good yarn.
I headed back to the media room after that to ditch my fleece pullover because the 48-degree morning weather had given way to something approaching 80. On the way there, I said hello to Tommy Lasorda for the first time this spring as he sat in his golf cart signing autographs, a scene that has been a staple of Dodgers spring training for as long as anyone around here can remember.
From there, it was on to the minor league side to watch the bullpens -- I'm told most of the workouts will be held over there until the full squad reports Tuesday because the fields there are closer together, making for easier (and faster) rotations for each group. On the way, I passed a jogging Dee Gordon, who offered a fist bump and a comment: "Nice hair." A little farther along the way, I ran into Sue Falsone, the Dodgers' new head athletic trainer who is returning to the club after a one-year absence. "Look at you with the hair," she said.
Once I finally got to the minor league side (it's a long walk), I exchanged "nice-to-see-ya's" with Juan Castro, now a special assistant in the front office; Triple-A manager Lorenzo "Lo" Bundy, who was sitting on a golf cart with the legendary Maury Wills (I shook hands with Maury, but he was on his phone); and Joe Reaves, the club's director of international and minor league relations. I stayed there until Dodgers PR staffer Jon Chapper told me Mattingly was heading back to the big league side and would be holding his afternoon media briefing as soon as he got there.
Before doing so, though, Mattingly stopped and signed autographs for a long line of fans, the first of which was a girl of about 4- or 5-years-old carrying a Don Mattingly bobblehead. This is where Mattingly's Indiana roots serve him well. Despite all those years as a star player for baseball's most storied franchise, the New York Yankees, he remains down-to-Earth and unpretentious, and he seems to genuinely enjoy his interactions with fans, especially amid the informality of these early spring workouts.
The afternoon briefings tend to be short this time of year, and this one was. That's a good thing, at least from the Dodgers' point of view. It means there were no surprises (read: freak injuries) during the workout. By this time, many of the players already had showered and left, so I grabbed some lunch.
An hour or so later, we returned and sat down at our laptops to finish up for the day. By now, all the players were gone. Or so we thought. One of the last stragglers, Josh Lindblom, stuck his head into the media room on his way out the door and made a final comment on my hair.
I'm thinking it might be time to get it cut. After all, the first day of spring training is all about new beginnings and fresh starts, right?