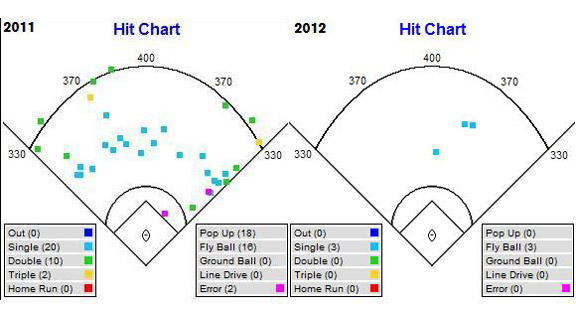 Left: Fly Ball Hits/Errors against Ted Lilly in 2011.
Fly Ball Hits/Errors against Lilly in 2012Why is Ted Lilly 5-0 this season?
Let's look at three reasons for his amazing start to 2012, as he bids to become the third Dodgers lefty starter in the last six seasons to start 6-0 (along with Fernando Valenzuela in 1981 and Kaz Ishii in 2002) tonight against the Diamondbacks.
First Things First
Lilly has had an unusual amount of success against opponents in the first pitch of an at-bat and it appears that he made a change in his pitching approach with regards to this.
Lilly has thrown a first-pitch strike 68 percent of the time, the fifth-best rate among major league starters entering Tuesday.
He's also mixed up his approach to right-handed hitters.
From 2009 to 2011, Lilly would start off a right-handed hitter with a cutter or fastball about 70 percent of the time.
Now he's making those hitters into guessers right off the bat, throwing the cutter and fastball only 55 percent of the time. The rest of the pitches the hitter sees are split among his three offspeed pitches, which he's throwing for strikes at a 62 percent rate.
Is it working?
Righties are hitting .163 against Lilly this season They are 1-for-14 when hitting the first pitch and have a .211 on-base percentage when Lilly gets ahead 0-1. More significantly he's yielded only one home run to the 138 he's faced.
That's a big difference from his past work. Right-handed hitters have averaged 22 home runs against Lilly over the last nine seasons.
The Dodgers Defense
Ted Lilly- Last 2 Seasons
The typical defense turns about 70 percent of batted balls into outs. Lilly's defense has turned balls into outs at a 79 percent clip through his first seven starts.
What the Dodgers defense has done behind Lilly specifically is get to the fly balls that caused Lilly trouble last season.
Lilly allowed 32 fly-ball and popup hits that stayed in the ballpark last season. This season, he's yielded only three.
The chart on the right shows the success that Lilly's defenders have had at turning fly balls into outs. The spray chart atop this piece shows the volume of fly ball hits and errors by the Dodgers with Lilly on the mound, comparing last year to this year.
Good Fortune
Lilly has been fortunate in a number of respects. The Dodgers have plied him with good run support. They've totaled 33 runs in his last four starts.
Additionally, Lilly may have gotten away with a few pitches that should have been crushed.
We can take our pitch data, provided by the Pitch F/X system in every major league ballpark, and divide it up by locations. The location in which a hitter performs best is middle-middle.
Think of the middle-middle pitch as the "5" key on a nine-key keypad. It is one that makes a hitters eyes light up.
Major league hitters are hitting .331 with a .581 slugging percentage against middle-middle pitches. These are the pitches often hit for doubles, triples and homers.
Even Clayton Kershaw has issues with middle-middle pitches. Opponents are 11-for-28 when he throws a middle-middle pitch this season.
Lilly has thrown 53 middle-middle pitches this season. They've resulted in 20 outs (18 on balls that were hit into play) and (so far) no base hits.