Bobby Abreu says he has no quarrel with the Los Angeles Angels, who released him April 27. That's the main reason he won't be looking for payback when his Los Angeles Dodgers face his former team Monday in the first of a three-game interleague set.
"To me it's just another team we have to play against," said Abreu, 38, during the Dodgers' four-game series against the Philadelphia Phillies last week. "It's simply a series where I have to give the best of me to help and win games. Nothing else."
Since joining the Dodgers on May 4, Abreu has been nothing short of spectacular. Before the Dodgers' weekend series in Seattle, the left-handed hitter had a .446 OBP in his first 75 at bats.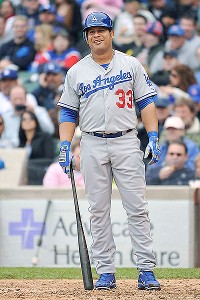 Brian D. Kersey/Getty Images
"To me it's just another team we have to play against," Bobby Abreu said of facing the Angels.
"It was surprising when the Angels released me," Abreu said. "Thank God I had the chance to be here (playing for) a team like the Dodgers. It's competitive team, young and winners.
"There were other places, like Boston, other places, but I liked the Dodgers, a fresh team that was in first place. I want to play for a winning team," said Abreu, who has become a key backup, given the Dodgers' recent injuries -- particularly to superstar Matt Kemp.
When Kemp is able to return, Abreu isn't worried about any uncomfortable situations that could come with having more outfielders than positions available.
"I'm fine. We had already spoken about it," Abreu said of he and manager Don Mattingly. "They will give me a chance to play. When they give it to me, I will always be ready. There's excellent communication."
Said Mattingly: "When we spoke to Bobby about signing with us, we let him know what the situation was. Everything was put on the table. Bobby will play enough. We will use him in a way that will keep him effective."
Mattingly said he would return Kemp to center field, Andre Ethier to right and alternate Abreu in left, depending on whether the opposing starting pitcher was a righty or lefty.
"To me the most important thing is to win games and always be ready for any chance I get to play, to do my job," Abreu said.
June is destined to be a nostalgic month for Abreu. It started with a visit to Philadelphia for the first time since July 2006, when the Phillies traded him to the New York Yankees.
"I was happy to see old friends and the city where I played in my early years," Abreu said.
After the Angels series at Dodger Stadium, the Dodgers will play a three-game set in Anaheim, June 22-24. Abreu hopes the Angels fans won't be as unforgiving as their Philadelphia counterparts, where he was received with jeers and boos in his first at-bat last week there.
"That I couldn't control. I had control over what I did here," said Abreu, who had two 30-30 seasons (30 HR and 30 stolen bases) in two of the eight full seasons he played in Philadelphia. "I know I had good numbers and gave the best of me."