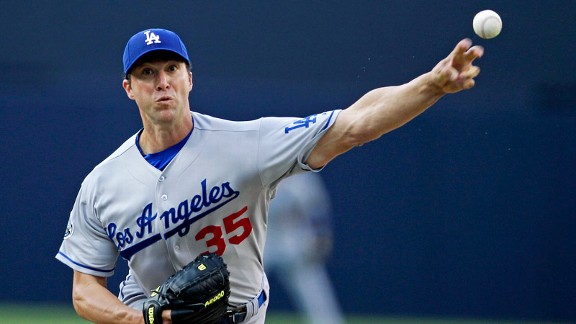 AP Photo/Gregory Bull
The smoke machine is sputtering, the mirrors are cracking, and a Dodgers team that for much of the season was sporting baseball's best record now finds itself struggling to hold off the San Francisco Giants in the National League West.
The other shoe may not have dropped, but it's probably worth keeping an eye up just to be safe. Matt Kemp is likely gone through the All-Star break. Andre Ethier is hitting .217 in June following Tuesday's 2-0 loss to the Giants. The one-time promise of James Loney has now evaporated. Juan Uribe is … Juan Uribe. And so on. Even when Kemp and Mark Ellis return, it's hard to picture the Dodgers ever pounding teams into submission offensively. Meaning the pitching staff can't bend, let alone break.
Along those lines, Clayton Kershaw's struggles with plantar fasciitis and Chad Billingsley's struggles with basically everything garner most of the headlines in the starting staff, but another equally important question revolves around the guy who hasn't caused an ounce of worry all year, and is very likely heading to Kansas City for the All-Star Game:
Can Chris Capuano be this good for the rest of the season?
Signed to a two-year, $10 million contract last offseason, Capuano hasn't just been good, but great. Heading into Thursday's start against the Mets at the Ravine, the 33-year-old lefty is the staff's runaway leader in wins (nine) and has the lowest ERA among starters (2.60). He has been particularly good at Dodger Stadium, allowing only eight earned runs in 46 innings over seven starts.
In 12 of his 15 starts, Capuano has allowed three earned runs or fewer. In eight, he's surrendered one or blanked the opposition entirely.
"Cappy has been amazing. The way he's thrown the ball, from start to finish all season long," catcher A.J. Ellis said after Capuano's strong seven innings of work Saturday in Anaheim. "Starting in spring training, you could tell he had a little more velocity on his fastball, and when he has that it just makes all his offspeed [pitches] better."
But is it sustainable?
His eight-year career has produced moments of success -- Capuano made a midsummer classic while a member of the Brewers in 2006 -- but nothing, including that All-Star season, has matched this year's dominance. Pick a stat, conventional or advanced, and there's a good chance Capuano is setting a career high. Then there's his health. Capuano has undergone not one, but two Tommy John surgeries on his left elbow. Rebounding from the first is practically routine these days, but the track record for players undergoing a second isn't nearly as kind.
Still, while continuing to work his way back from the most recent elbow procedure, there were signs of life for Capuano buried in an 11-12 record and the 4.55 ERA with the Mets. He threw 186 innings, his highest total since '06, and the 3.17 strikeout/walk ratio was the second best of his career, to name a couple.
It was enough to get manager Don Mattingly's attention.
"Honestly, (pitching coach) Rick (Honeycutt) and myself both liked this guy. I hated scouting him because he gives you a lot of different looks," he said after Saturday's win. "We felt like at the end of the year last year, he was throwing the ball well. We've always liked him, and felt like this was there. So I'm not quite sure we thought it was going to be like this, but I will tell you I know it's a guy we both liked in the past."
Capuano says adding more to his repertoire has helped.
"I've experimented a lot over the last couple years with grips. A different kind of a two-seam fastball, a different breaking ball, a cutter which I learned last year," he says. "So those were all things I didn't have before. I really was fastball, slider, changeup before. Now I kind of have a couple different fastballs. A little more of a slow breaking ball, and also a cutter. So there are some differences (between now and earlier in his career)."
The biggest adjustment might have come in his mental game. Ellis -- only half joking, it seems -- says getting Capuano, a Duke product and Phi Beta Kappa who while still in the minors was recruited by Morgan Stanley, to think a little less on the mound has been key.
"In the past, he might get into his own way," Ellis said. "He's a very cerebral guy. Everyone knows his education background and how smart he is off the field. When he's out there on the mound and pitches with a clear head, and executes pitches as opposed to trying to game plan and worry about sequences and how to get guys out, just executes the pitches that I put down, or Matt Treanor puts down, he seems to be a lot more effective," Ellis said.
In other words, get a little dumber.
"Sometimes we all need to do that when we're playing this game," Ellis said, smiling.
Capuano, a meticulous game planner, says he has made a concerted effort to relax, trust and execute the pregame work once taking the mound. Having Ellis, considered an excellent game manager despite relatively thin major league experience, helps. So does an outlook embracing the intellectual side of his craft without allowing it to be an impediment.
It's one reason this year's All-Star season could have a better ending than in '06, when Capuano collapsed after the break.
"My perspective is just different now. I think I want to do well, I want to get wins -- but it really isn't the end result (I'm after)," he says. "So much has changed in my life (since 2006). I missed two years of baseball, I got married. Just the way I look at baseball has changed. I really just enjoy being here every day. I enjoy executing pitches. I enjoy executing pitches, I enjoy seeing how many of my pitches I can execute that I'm given in a game. That's where the joy is."
Every long professional career has outliers, seasons above or below a player's established norms. It's why, before the term was ruined even for non-PED users, someone invented the idea of the career year. Maybe Capuano has discovered a formula helping to harness potential derailed earlier by inconsistency and injury. Maybe this is the year he manages to put everything together before regressing to the mean. The Dodgers would love it to be the former, and would certainly take the latter.
What the first 15 starts of Capuano's career in L.A. can't be is a mirage. Not if the Blue have any hope of parlaying that fast start into a playoff berth in the fall.