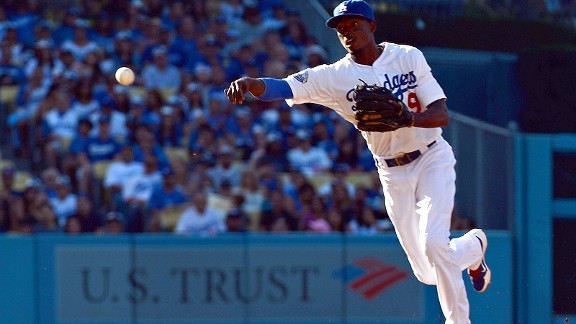 Harry How/Getty Images
Dee Gordon recovered from a pair of throwing errors in the third inning Sunday to post a couple of hits and three stolen bases. He's trying to live up to the productivity so many have anticipated for him.
LOS ANGELES -- They were born a month apart in 1988. Two kids with vastly different skill sets that both translated into something sublime on a baseball field.
Clayton Kershaw was blessed with a left arm not seen in these parts since Sandy Koufax played here. Dee Gordon was bestowed with the kind of speed that compelled the Los Angeles Dodgers to have him pose with former MVP Maury Wills and not think twice about the comparison.
Much was given and much was expected, too. Which is why we notice so much when they fall short of expectations, or at least take a few years to grow into them, as Kershaw did earlier in his career and Gordon seems to be doing in his first full season as the Dodgers' leadoff hitter and shortstop.
All of what makes Gordon exciting and frustrating was on display Sunday during the Dodgers 8-3 win over the New York Mets.
He threw two balls away in the third inning that essentially gave the Mets two runs and put Kershaw up against it from that point forward. The errors were his 16th and 17th of the season, the most in the majors and nearly a third of the Dodgers' season total (56).
Then Gordon responded with a sharp single to right in the bottom of the third, another one in the seventh and three electrifying stolen bases that were glimpses of just how great a weapon he might be one day.
"Honestly, the whole year has been tough," Gordon said in describing the way he felt after the second throwing error. "It's just like, 'Dude, you've got to be better. Go get it back.'"
Gordon got it back, and then some, as the Dodgers rallied to snap a seven-game losing streak in an ugly outing during which the teams combined for five errors and only three of the 11 runs scored were earned.
But this wasn't some sort of breakthrough for either Gordon or the Dodgers. No, it was one game that ended well that very well could have gone another way.
Gordon, like the Dodgers, still has much work to do.
"You live with mistakes. You just don't want to see them happen over and over, the same mistakes," Dodgers manager Don Mattingly said of Gordon's throwing errors.
As for his team?
"One game's not going to do anything for us," Mattingly said. "This is going to take a little bit to get behind us. We're going to have to play well for a little while to forget what's been going on."
The Dodgers survived this one and came out with a win largely because Kershaw has worked himself through the kind of growing pains Gordon is still dealing with.
He's the stopper now. The ace. The guy not only tasked with stopping bad skids like this, but the guy who wouldn't have it any other way.
"You always want to be the stopper," Kershaw said after giving up one earned run, five hits and striking out nine in seven solid innings.
"Your team's in a losing streak," he said. "You want to be the guy to help them get that win. I think everybody has to have that mentality as a team and for me, personally, too.
After what Kershaw did last season in winning 21 games and his first Cy Young award, it's easy to forget how far he's come in his five seasons in the majors. As recently as 2010 the Dodgers were concerned about his tendency to be too fine around the plate, causing his pitch count to get up high and making it difficult for him to pitch deep into games.
Like with Gordon, you could always see how good Kershaw could be. And like Gordon, much was expected of him, probably before he was ready to make good on it.
So it's not all that surprising to hear Kershaw and Gordon, two 24-year-old kids born a month apart, openly rooting for each other.
"Dee bounced back awesome," Kershaw said. "He knows everybody has his back on this team. Just the way he came back out and got a couple of hits, stole some bases and got us going offensively. That's what you do. You make some mistakes and just put your head down and keep playing, and that's what he did.
"I can relate to that now. It doesn't feel good ... for me, personally, walking guys, giving up hits or runs. We all know how hard this game is. We can't lose sight of that, and Dee showed a lot of character tonight coming back."
Across the clubhouse Gordon was standing in front of his locker and watching the way Kershaw handled himself.
"I really want to have his back," Gordon said of Kershaw. "He handles stuff well. He's a great guy. That's why he deserves everything he gets."