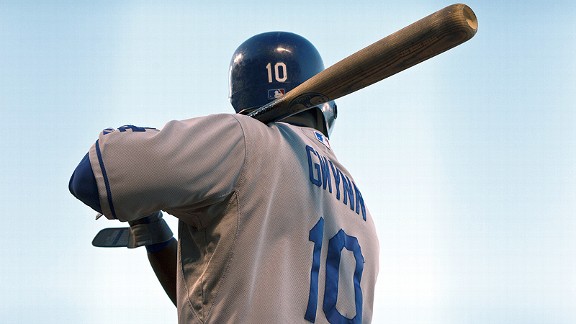 Jason O. Watson/Getty Images
The Dodgers' expectations for Tony Gwynn Jr. have always been pretty clearly defined. Make a start every couple of days, be ready to come in as a late-game defensive replacement on the other nights, stay loose, steal a few bases, step up and play a larger role if someone gets hurt.
Gwynn knows all that. He accepts it, too. His father, Hall of Famer Tony Gwynn Sr., raised him to know the manager decides things like that, and you owe it to him and yourself to accept it.
You do not, however, have to stop trying to change his mind.
"I'm constantly out to try to prove that I can play on an everyday basis," Gwynn said. "I'm definitely not a guy who is going to fight and fight and fight it. The manager is the one who makes the decision. So if that's how he feels, I try and do that to the best of my abilities with the motivation in mind that I don't believe that is the case."
Over the course of his two seasons with the Dodgers, Gwynn has done just that. He played in a career-high 136 games last season and is well on his way to exceeding that this season, playing in 76 of the Dodgers' first 81 games, largely because of the extended absence of center fielder Matt Kemp (hamstring).
He has been steady and solid. He's done more than the Dodgers could've hoped for when they signed him as a fourth outfielder in 2011. But when Kemp returns to the lineup after the All-Star break, he'll likely go right back to a more limited reserve role.
"I pretty much do," Dodgers manager Don Mattingly said when asked if sees Gwynn sliding back into his previous role when Kemp returns. "We've asked a lot of Tony and it's worn him down a little bit. But obviously he's shown he can play and he can do some things. So the right matchups and things like that, he's going to get his days too."
Gwynn said he can't complain.
"I'm in the big leagues," he said. "I put on a Dodger uniform every day. I get to be on a major league baseball field every day. I'm healthy. My family is well and healthy. What is there to complain about? I make a pretty good amount of money. I'm competitive and I want to play, but there's no reason for me to sit here and complain."
Gwynn talked more about his famous father, his role on the Dodgers, and why he feels like he's finally found his swing:
ESPNLA: Why do you think you're thought of as a fourth outfielder?
Gwynn: I think a lot of it had to do with earlier in my career. I was the "next centerfielder in Milwaukee" and they did so many different things to not allow me to have the job. They weren't really comfortable with just handing me the job. I think in people's minds, as that happened, they start to wonder why. Why wouldn't [they] just give him the job? Why would they move Bill Hall to center field? Why would they go out and get Mike Cameron? The Mike Cameron situation was a little different because we were contending and I was a young player. That one was more understandable than the first one.
ESPNLA: Do you use that for motivation?
Gwynn: Absolutely. I'm as competitive as they come. It's motivating [to] be able to prove people wrong. In any sport, any athlete would tell you the same thing.
ESPNLA: So can I assume that beard you were sporting earlier in the year had something to do with that?
Gwynn: Yeah, maybe. It had a little grimey-ness, I can't lie. Then I started to like it a little, so I figured I'd run with that Rick Ross look, see how long I could go with it. But ultimately, my wife wore me down and I had to cut it off a little bit.
ESPNLA: One of the things you've mentioned to me before is that you haven't been tinkering with your swing this year. When did it happen and how did it happen? How did you get to that place?
Gwynn: I think it was probably around June of last year. I'd been working with [former hitting coach Jeff Pentland] and [current hitting coach Dave Hansen]. They knew going in it would be a work in progress, but they let me progress. As bad as it was in May, I was able to keep working and finally it just kind of clicked.
I remember a game against Anaheim, [Jered] Weaver was pitching and we ended up getting a walk-off hit to win that game. And from there, confidence is something else. Once your brain is feeling good about it, then all of a sudden you trust these things, and now you're not up there thinking about it during each at-bat.
ESPNLA: What specifically were you working on?
Gwynn: Leveling out. I don't want to call it an uppercut. It was kind of like I was dropping my hands, getting underneath the balls, and eventually it got to the point where during those first few months I compensated and it was almost straight up and down.
ESPNLA: So you were chopping balls like a slap hitter in softball?
Gwynn: Yeah, I had got it to the extreme, the opposite way. But I finally had to take a step back and let it go. And from that point on it really leveled itself out.
ESPNLA: How did you change it? Did you see it on tape? Or feel it?
Gwynn: I couldn't feel it when I first started because I'd been doing it a certain way for so long. For a minute there I couldn't hit anything on a line. I was chopping everything on the ground.
But after that game [a 3-2 win on June 26 against the Angels] I really started trusting it. I think we went to Minnesota and I had a four-hit game. But that Anaheim game is the first game where I started to feel it. Once a hitter starts to feel it, they don't have to think about it so much anymore.
I'm such a mental person when it comes to mechanics. It's kind of how I was raised. I had to kind of learn to get out of my own way a little bit.
ESPNLA: What started the dropping your hands in the first place? Was someone in your ear about trying to drive the ball more?
Gwynn: Absolutely. You hear that so much, 'You need to drive the ball!' Well, that's not really my game. I'll hit some balls in the gaps. I'll get my doubles. I'll get my triples. But I'm not going to be sitting back trying to drive the ball [out of the park].
But it's a pride thing. Once you kind of get that out of the way, then you can let your abilities take their course.
ESPNLA: You've done well in the time you've filled in for Matt, but when he comes back in a couple weeks, do you expect to go back to a reserve role?
Gwynn: I don't even think about it. It is what it is. It may not be my first choice, but it's a choice nonetheless.