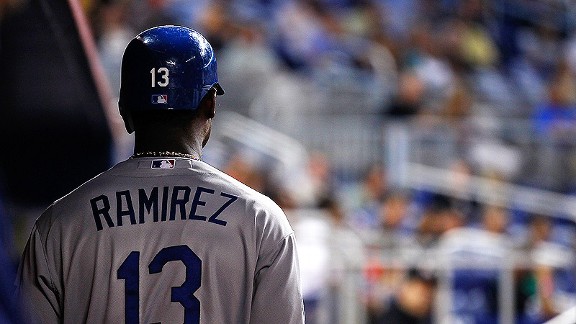 Sarah Glenn/Getty Images
After enjoying only accolades following his trade from Miami, Hanley Ramirez is just 4-for-his-last-23 and put the Dodgers in a bind against the Marlins by going 0-for-4 and booting a ball.
Sunday came at the right time, offering a helpful, come-back-to-Earth moment for a team that about 15 hours earlier looked like it was preparing for an October parade in August.
The Dodgers essentially bought 15 percent of the Boston Red Sox's roster in the past few days.
On Saturday night, the team set up a podium and microphones near home plate to introduce three of those purchases in a postgame ceremony piped over the loudspeakers at Dodger Stadium.
By Sunday, it watched some of its newest millionaires put up at-bats in the clutch worthy of minor league journeymen in a 6-2 loss to the Miami Marlins.
The commissioner's office is not just going to award the National League pennant to the team that piles up the biggest contracts. You don't just add up the number of All-Star appearances on the back of a team's baseball cards to sort out the playoff seedings.
The Dodgers forced Marlins manager Ozzie Guillen to use five relievers and scored one run off them. They equaled the Marlins' 11 hits and lost by four runs. They stranded 16 runners on base -- half by Hanley Ramirez -- and were 2-for-17 with runners in scoring position.
Frustrating? Yeah. Part of the game? Obviously.
"We'll probably see more of these with this type of club," Dodgers manager Don Mattingly said. "I think you'll see days where you get lots of guys out there and you don't score, then, all of a sudden, you're going to see days where you throw up 12 or 14 on a day like this. We'd just like a little more balance."
Baseball is a little too nuanced to assume this team is a World Series contender because it led the league in transactions. We have to see how things sort out over the coming weeks, to see how this assortment of talents, personalities and styles becomes a team. The fact that the bulk of the Dodgers' activity came in late August only shrunk the sample size.
Ramirez has yet to deal with a negative storyline since he got to Los Angeles. He drove in runs immediately and earned adulation for game-winning hits within his first week of traveling west. When the barometric pressure dropped in Miami, his track record doesn't exactly suggest he was a stalwart grinder. Now, he's 4-for-his-last-23, and he hurt his team in so many ways Sunday, including booting a ball on a fairly routine backhand play to allow a run to score and going a painful 0-for-4.
"Just one of those days. It's not the end of the world," Ramirez said. "I've just got to sit down and see what I can learn to come back better. I was swinging at balls out of the strike zone."
The Dodgers don't have long to sit around and see what happens with this experiment in late-season team making. With 34 games left, they're in the thick of the playoff race but in a far-from-comfortable position, just behind the leaders.
"It's not really that time of year to say, 'We'll get them tomorrow,' or, 'We've got a lot of time left,'" Mattingly said.
The Dodgers are in the strange position of having to hurry up to get to know themselves.