GLENDALE, Ariz. -- The Dodgers struggled to score runs last season, finishing ninth in the National League, a fact that served, perhaps more than any other, to undermine their season. Looking at the team that has been put together for 2012, there doesn't appear to be much reason to think that will change.
But another stellar season by Matt Kemp and better full-season performances by Andre Ethier and James Loney could make a difference. A little more experience by Dee Gordon, now entrenched in the leadoff spot, also could create more opportunities. Time will tell.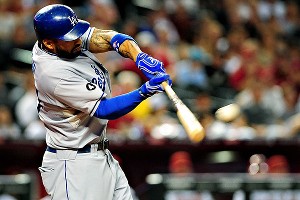 Jennifer Stewart/US Presswire
Matt Kemp will see more at-bats in the third spot this season.
For now, here is a spot-by-spot look from strictly an offensive perspective at the starting eight the Dodgers figure to throw out there most of the time. The batting order is an educated guess, although manager Don Mattingly already has revealed his plans for at least a few of the spots. He also has said the lineup will be in constant flux, much of it depending on who the opposing starting pitcher is on a given night. But this is a basic template of what it is likely to look like most of the time.
1. Dee Gordon, SS
In two fairly lengthy big league stints as a rookie -- the second of which was bisected by a stint on the disabled list -- he hit an impressive .304 last year. But his on-base percentage was .325, hardly adequate for a leadoff man. That needs to get better, but can it? Gordon is officially listed at 5-foot-11, 150 pounds, and he is a slashing-type hitter who isn't a home run threat. That means teams aren't going to walk him. Team insiders believe he has the potential to steal 60 bases, but you have get on the bases before you can steal them.
A decent, but not great, on-base guy (.317 last year, .331 for his career), he is said to be a superb handler of the bat, making him a good candidate to hit between the speedy Gordon and in front of the big bats in the middle. Assuming Gordon will be stealing second a lot, right-handed-hitting Ellis frequently will be asked to go to the right side, either poking a single through to right field so Gordon can score easily or a grounder to the second baseman so Gordon can get into position to score on a sacrifice fly.
3. Matt Kemp, CF
Mattingly said on the first day of spring training he intends to hit Kemp third after hitting him fourth the vast majority of the time last year. The main reason is to ensure he comes up in the first inning, with the possible bonus of getting him an additional at-bat on some nights. The other is to create more RBI chances for Ethier below. If Kemp has another season like 2011, or even something close to it, this will be a smart move.
4. Andre Ethier, RF
If he can stop being his own worst enemy -- i.e., letting his frustrations get to him to the point he gives away at-bats -- and doesn't allow his ego to be bruised by the fact he now is hitting behind Kemp, this could be the best thing that happened to him. If nothing else, this should afford him a great chance to improve on last year's comparatively paltry RBI total of 62, his fewest since his rookie season of 2006, when he wasn't called up from the minors until May. Because of his struggles against lefties, though, Ethier likely will hit lower in the order against opposing southpaws.
Not the most dangerous No. 5 hitter in the league, but he is a power threat whose biggest contribution after the Dodgers acquired him at the All-Star break last year was to lengthen their lineup. His presence means teams will be less likely to pitch around Ethier in tough situations, say, intentionally walking him with runners on second and third with first base open, because Rivera can hurt you.
6. James Loney, 1B
He needs to carry over his spectacular finish from 2011, when he posted a .357 average and .416 OBP from Aug. 1 on, the same period of time during which he hit twice as many home runs (eight) as he had hit over the previous four months combined. He also had 17 doubles during those two months, only 13 before that. That is more of an indication of who he is than the home runs, so Mattingly and the front office probably need to allow him to be that line-drive, gap-to-gap doubles guy instead of looking for more power. But this is a pretty strong bat in the 6-hole, if that is where Loney ultimately winds up.
It's tough to know what to expect here. The Dodgers had him for only a couple of months last year before a sports hernia wiped him out for the rest of the season, and he hit just .204 during that time. For better or worse -- and for lack of an alternative -- he is going to be in the lineup almost every day. If he doesn't produce, it's possible the Dodgers could overcome that with him hitting low in the order. If he does produce, he also would serve to lengthen the lineup, giving the Dodgers a legitimate power threat near the bottom.
Ellis is finally getting his chance at the everyday job after years of knocking at the door. He isn't going to make any eyes pop with his offensive skills -- he is an old-school, defense-first type of catcher -- but he isn't an automatic out. His .392 OBP in 31 games last year is indicative of a disciplined hitter who goes to the plate with a plan, and with the pitcher hitting behind him, that is a valuable skill. And he will hit an occasional home run. He had two of them in 103 plate appearances last year.