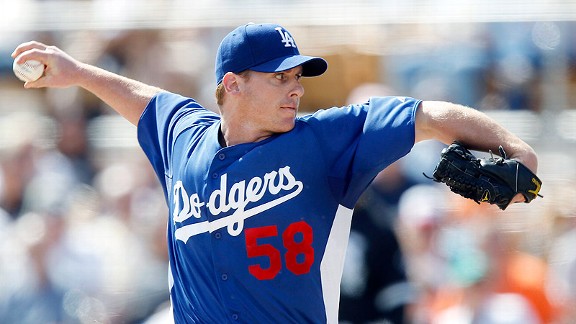 AP Photo/Paul Connors
Chad Billingsley's first start of the spring was brief and to the point, the Dodgers right-hander really seeking to do nothing more than throw strikes. It was a refreshing approach by Billingsley, who at times over the years has been criticized for a lack of aggressiveness on the mound.
As the Dodgers opened Cactus League play with a 6-4 victory over the Chicago White Sox before 5,788 on Monday at Camelback Ranch, Billingsley opened it with two uncharacteristically quick innings, throwing a total of 21 pitches and retiring six of seven batters. The fact he didn't strike anyone out wasn't a negative, but indicative of his attempt to get early-count outs.
"I told (catcher) A.J. (Ellis) to stay on the plate,'' Billingsley said. "I wanted to pound the zone.''
With some tweaked mechanics, Billingsley is attempting to give himself a greater margin for error by keeping his front leg from kicking out from his body while it's in the air, something that would cause him to drift toward third base if his timing were even a fraction off.
Billingsley said he is slowly getting comfortable with the new approach, and it appears to be serving him well so far.
Perhaps more importantly, though, what we saw against the White Sox was what we have been waiting to see, more or less, since the day Billingsley arrived in the majors almost six years ago. The question is, is this an area in which Billingsley is focused on improving this year, or was it nothing more than a pragmatic way of getting through his first spring training start with a minimum of fuss?
"It sounds simple,'' Dodgers pitching coach Rick Honeycutt said. "Chad just has to get back to ... attacking. Too many times, guys try to make perfect pitches. He has put-away pitches when the count is in his favor, but he has to get to that point. That is why he needs to straighten his lines up (mechanically) so the ball stays on target after that.''
Billingsley had a strikeout-to-walk ratio last year of just 1.8 to 1, his worst since he struck out 59 and walked 58 as a rookie in 2006. He also posted his career-worst ERA (4.21) and averaged less than six innings per start. Were all of those statistics interrelated, a result of too much nibbling leading to too many walks and too many pitches thrown?
Maybe. Probably. But whether that was it or not, what we do know is this: Billingsley can only benefit by being a more aggressive pitcher. You can't really draw conclusions from what happens in the Cactus League, especially when it's the first game and a pitcher's first start. But it still is notable that Billingsley uncharacteristically blew through seven batters on just 21 pitches.
Is it a sign of things to come? For now, we can only hope.