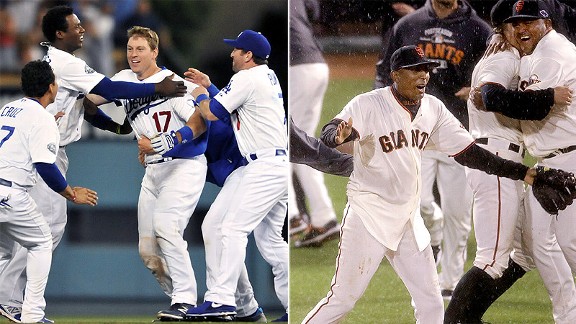 AP Photo
These are dark days to be a Dodgers fan, in one painful regard. The archrival San Francisco Giants are in the World Series again, with a chance to win their second title in three years.
Several key Dodgers, meanwhile, are recovering from surgery of one kind or another and, presumably, are watching the postseason action on TV, along with their fans.
Yet these also are bright days to be a Dodgers fan. With new, energetic and spendthrift owners, the Dodgers have the rare opportunity to recast themselves into perennial NL West contenders again.
Teams that wallow in bitterness or self-pity rarely get far. The Dodgers have a great chance to learn from their rivals, to study their habits and, maybe, pick up an attribute or two that could help them gain some of the Giants' rare resiliency.
Here are some lessons the Giants can teach the Dodgers, if they're willing to listen:
Think locally. What do Buster Posey, Matt Cain, Madison Bumgarner, Tim Lincecum, Pablo Sandoval, Brandon Belt and Brandon Crawford all have in common?
Well, in addition to being the core of this Giants team, they're also all homegrown -- drafted and/or signed and developed inside the Giants' organization. It doesn't matter how the Giants' system was ranked by Baseball America in the past 10 years. Any team that can develop just one player as good as Posey (fifth overall pick out of Florida State in 2008) -- or Lincecum (pre-2012), Mike Trout, Evan Longoria, Stephen Strasburg, Clayton Kershaw, etc. -- sets itself up for future success.
The Dodgers have that opportunity not because they acquired so many veterans late last season, but because they landed Kershaw and Matt Kemp so many seasons ago, before anyone had heard of them.
If you can round up a bushel of locally produced talent, you suddenly have a stout and affordable foundation to build the rest of your team around. Then, even if you make a mistake in the free-agent arena (e.g., Barry Zito), you can survive it. The Giants entered 2012 with a sizeable $117 million payroll, but by the end of the season, it was a fraction of the Dodgers'.
Not only did the Giants have a solid foundation of talent due to their scouting and development, but they had a team that played with far more cohesiveness than the Dodgers did. It's no coincidence. Many of the Giants have been playing, traveling and bonding together since they were teenagers.
Persevere. The pivotal moment of the Giants' season was Aug. 14, when they learned they would be without the league's leading hitter, Melky Cabrera, who got hit with a 50-game suspension for a positive testosterone test. After that, the Giants went 30-15.
The pivotal moment of the Dodgers' season was Aug. 28, the day Kemp collided with an outfield wall in Colorado. After that, Kemp spiraled into a brutal slump and the Dodgers went 17-16, handing the NL West to the Giants.
The situations, of course, are not entirely analogous. The Giants' blow was far worse from a psychological perspective. Sports teams deal with injuries to good players all the time.
Who knows what it is. Leadership? Toughness? Just plain confidence? A feeling of togetherness? The Dodgers could learn something from the Giants' approach to adversity.
Hit just enough. Let's be honest. Neither team reminds you of the 1927 New York Yankees or, for that matter, the 2012 Detroit Tigers. Like the 2012 Giants, the 2012 Dodgers were a pitching-and-defense team. The Giants scored 718 runs, sixth in the National League. The Dodgers scored 637, second-to-last.
The difference: The Giants scored when they had to. They batted .278 after the All-Star break, 16 points higher than before it. They had a .722 OPS with runners in scoring position and a .753 OPS with runners on base.
The Dodgers' hitting essentially flatlined (.250 pre-ASB, .254 post-ASB). The Dodgers had a .714 OPS with runners in scoring position and a .720 OPS with men on. In other words, the Giants' offense showed improvement going into the pennant race, and then into the playoffs. It appears to be peaking at exactly the right time, October.
The Dodgers, besieged by injuries and poor situational hitting, struggled to create action from beginning to end.
Get lucky. The following appears in Wednesday's San Francisco Chronicle:
On July 27, while the Dodgers were in the process of buying players for tens of millions of dollars, Giants GM Brian Sabean sent prospect Charlie Culberson to Colorado for [Marco] Scutaro, who went on to hit .362 with 44 RBIs in 61 games. The Giants had to pay him only $2 million. Now he's due another $75,000. A bonus for winning the NLCS MVP.
But nothing about Scutaro's past (.731 lifetime OPS., .140 postseason batting average before this year) suggested he was about to turn into Babe Ruth for three months. Conversely, nothing about Adrian Gonzalez's past (.877 lifetime OPS, .357 postseason average) suggested he would turn into James Loney for two months.
The Giants' front office made their moves. The Dodgers' front office made their moves. The Giants' moves worked out. The Dodgers' moves (so far) haven't.
Baseball GMs are at the whim of their players at least as much as the players are at the whim of the GMs. Scutaro made Brian Sabean look good. Gonzalez made Sabean's former protege, Ned Colletti, look bad. It happens. It's why baseball is so hard to predict and so fun to watch.