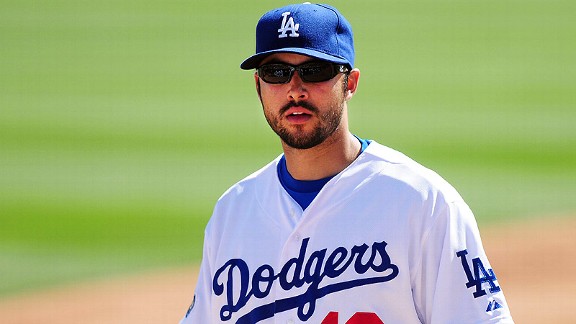 Jennifer Hilderbrand/US Presswire
There is a widespread assumption about Andre Ethier these days, and it is at least somewhat based in logic. To the naked eye, it would seem that this stands a good chance of being the temperamental right fielder's final season with the Dodgers, his destiny either to be traded away at this summer's deadline or allowed to walk away via next winter's free-agency period.
There also is another assumption about Ethier. But this is one he might have some actual control over.
Ethier, they say, can't hit left-handers. Just look at the numbers. For his career, the lanky, left-handed-hitting right fielder is batting 67 points higher (.309) against right-handers with an on-base percentage of .386 against righties and .302 against lefties. Of his 109 career home runs, only 15 have come against lefties. Last year, when Ethier took a second-half nosedive after being named to his second consecutive National League All-Star team, that discrepancy was even more pronounced, Ethier hitting 99 points higher (.321) against righties. His OBP was .410 against righties, .258 against lefties. And of his disappointing overall total of 11 home runs, one -- yes, one -- came against a left-hander.
So did it actually mean anything that in his first at-bat against a lefty this spring, San Francisco's Barry Zito, Ethier drove a pitch onto the berm in right-center, one of the few Dodgers highlights in an 8-4 Cactus League loss to the Giants before 7,038 at Camelback Ranch? Should we assume that he has put that Achilles' heel behind him, once and for all?
Well, no. No moreso than we should assume Ted Lilly is going to have a disastrous season because the Giants lit him up for five runs in two innings in his first start of the spring. But what we can do is be encouraged, at least for the moment, not so much by the fact Ethier took Zito deep -- let's face it, the former American League Cy Young Award winner isn't what he used to be -- but by the fact Ethier appears comfortable, focused and, perhaps most importantly, mechanically sound at the plate.
"Square,'' said Dodgers manager Don Mattingly, who didn't mean Ethier wasn't hip to the new sound. "You see that squareness to him right now. For me, when I see him square, I know (his swing) is going to be short. When he has a good eye, that means he's going to stay in there and it's going to be short."
Woe to the general manager who makes too many major decisions based on what he sees in the Cactus League, but if Ethier keeps this up all month, it could have some impact on an Opening Day roster that for now appears largely set. Although Mattingly hates to use the word "platoon,'' it was pretty clear coming to camp that Ethier probably couldn't count on many starts this season against lefties. But if that changes, what does that mean for Jerry Sands, whose place on the major league roster will depend largely on Mattingly's ability to get him enough at-bats to avoid any stagnation to his development? Facing a lefty theoretically would open a spot for the right-handed-hitting Sands to fill in for Ethier in right field.
All those decisions are still four weeks away, of course. For Ethier, his home run off Zito was a first step, nothing more. But it demonstrated why Mattingly's best-laid plans are always going to be flexible -- and why, no matter what other assumptions you might make about Ethier's future, you shouldn't assume he can't hit lefties.
Not after one game in the Cactus League, anyway.