Aaron Harang made his Cactus League debut for the Dodgers, struggling through a first inning in which he gave up two runs on four consecutive two-out hits but then coming back with a perfect second. He then threw 15 more pitches in the bullpen, just to get some extra work in. ...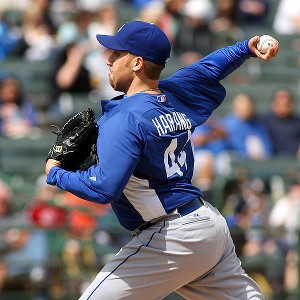 Jake Roth/US Presswire
Aaron Harang gave up two runs on four consecutive two-out hits in the first but rallied with a perfect second.
Cory Sullivan, a non-roster invitee signed this winter as a minor league free agent to add outfield depth, became the first Dodgers player this spring to play an entire game, going 3 for 4 with a double and an RBI. Sullivan, 32, has spent parts of six seasons in the majors, including 57 games last year with the Astros. He'll be a solid insurance policy at Triple-A, but the Dodgers appear set in the outfield for now, where they have more guys than they know what to do with.
Chris Withrow, the Dodgers' first-round draft pick in 2007 who was added to the 40-man roster last winter and is in his first big league camp, gave up a run on one hit over two innings while struggling with his control. He walked the first batter he faced on four pitches, then later hit a batter and threw a wild pitch that allowed Brandon Allen to reach after striking out. We'll see him at least once more, probably twice, before he is sent to the minor league side to build up his innings.
The Dodgers (1-1-1) will play the A's again Thursday, this time at Camelback Ranch, with Chris Capuano making his first Cactus League start.