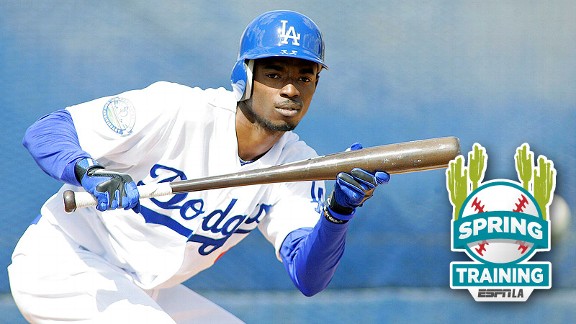 Jake Roth/US Presswire
You know Dee Gordon has come a long way since last spring training. A year ago, people were talking about his upside, wondering how far away he was from the majors, drooling over how exciting a player he was going to be when he got there. Now, even as they praise his ability, they also whisper about his shortcomings.
Not that he has that many.
That is what happens when a player goes from a highly touted prospect to a full-fledged big leaguer, a guy who comes to camp not to make a good impression on the coaching staff and the front office, but who arrives as the Dodgers' everyday shortstop and leadoff hitter.
Gordon spent the winter trying to get better at that everyday shortstop thing, traveling to Texas to work out with Dodgers bench coach Trey Hillman, staying home in Florida to work out with Hall of Famer-elect Barry Larkin and reporting to spring training almost two months early to work out with Dodgers minor league infield coordinator Jody Reed, all in an effort to develop a more cerebral approach to a position he previously played with an exciting flair but also with wild abandon.
"That was all about defense,'' Gordon said. "They talked to me a lot about certain things I need to see and watch out for instead of just relying on athleticism all the time.''
It's the leadoff hitter thing where Gordon still has room to improve. Or, more to the point, his on-base percentage has room to improve. The encouraging part, though, is that it already has improved, even though his overall OBP as a rookie was .325, marginal at best for a guy hitting leadoff.
But when Gordon came to the majors for the first time last year -- knowing it probably was going to be temporary because Rafael Furcal was on the disabled list but also admittedly trying too hard because he wanted to make it a tough decision to send him back down -- he posted a .250 OBP, drawing just two walks in 85 plate appearances and striking out 16 times.
When he came back about a month later, Furcal had just been traded to the St. Louis Cardinals, bequeathing the everyday shortstop job to Gordon. This time, Gordon relaxed, and the result was a solid .367 OBP and just 11 strikeouts in 148 plate appearances.
"My goal every year is to be around .370,'' said Gordon, who was at .372 during his time at Triple-A Albuquerque last year. "But I just have to be who I am and take what the pitchers give me and swing at strikes.''
That's the problem Gordon faces: How does he continue to increase his OBP when opposing pitchers aren't going to walk him very often because he has little power? He didn't hit a home run in 558 plate appearances last year at Double-A Chattanooga, Albuquerque and the majors. And some of the hitters behind him -- Matt Kemp is expected to hit third for the Dodgers this season -- are dangerous, even more so with men on base.
Moreover, Gordon's speed is his main weapon. He stole 24 bases in 54 games last season, which projects to 72 over a full season. So why would teams pitch around him when a walk presents a pretty good possibility he will wind up on second base?
It all raises the question of whether Gordon, his speed notwithstanding, is exactly what you look for in a leadoff man.
"To me, that is where he should be,'' Dodgers manager Don Mattingly said. "I think that spot is a perfect fit for him. We think [the OBP] is going to get better. There was obvious improvement from the first time we called him up to the second time. That is what we want from everybody, that they just continue to grow. This guy is going to be a hitter. They are going to pound the strike zone against him.''
To some degree, Gordon's speed can offset the lack of walks because he will get far more infield hits than the average player. Besides working with Reed on his defense since coming to the desert in early January, Gordon also has continued to work with Maury Wills on his bunting, giving him another weapon for getting on base, although he probably can expect opposing teams also to play their infields to guard against that.
Don't look for Gordon to be patient or selective or go deep in counts. Normally, it's a sound strategy, especially for a leadoff guy. But his skill set is better suited to an aggressive approach at the plate. For him, taking pitches will often mean falling behind 0-2 before he even has a chance to settle in. But his speed also will be in the minds of infielders, possibly creating errors by making them rush to field balls or throw them.
Simply put, Gordon has the chance to get on base on virtually any ball he puts into play.