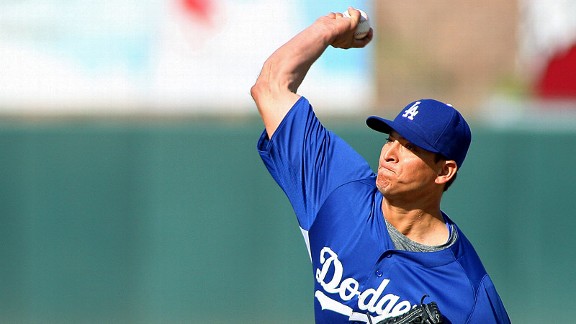 Jake Roth/US Presswire
Javy Guerra is the Dodgers' closer, but will he hear Kenley Jansen's footsteps soon?
The Dodgers don't have a closer controversy. Manager Don Mattingly made sure of that on the first day of spring training, saying he would stick with last season's basic template of Javy Guerra in the ninth inning and Kenley Jansen in the eighth, and nothing happened in Wednesday's Cactus League game, a 3-3, nine-inning tie with the Oakland A's before 3,583 at Phoenix Municipal Stadium, to change that stance.
That isn't to say, though, that there isn't a closer controversy in the Dodgers' somewhat-immediate future.
There is already a clamoring among a segment of the fan base, fueled by an infatuation with Jansen's dominating stuff, his 16.1 strikeouts per nine innings last season and Guerra's failure to get the only out he needed to close out the penultimate game of the season with a four-run lead, to make Jansen the closer.
And now, Mattingly says it was something he considered, however briefly, over the winter.
"A little bit,'" he said Wednesday. "It's hard not to with those two and with what Kenley was able to do last year. (The media) only look at the very end, but you don't talk about what happened at the beginning and how it got to there."
For those with fuzzy memories, Guerra, then a rookie, couldn't have timed his arrival in the big leagues any better. He came up in mid-May, a point when Jonathan Broxton already had all-too-predictably lost the job and had been found to have an elbow injury that may or may not have been the reason for his prolonged ineptitude. By the All-Star break, Guerra had staked his claim to the closer role, and he has been in it ever since. He finished the season with 21 saves.
And, Mattingly concluded, he will stay in it until there is a reason for him not to.
"It's hard not to think of Kenley like (a closer),'' Mattingly said. "But Javy kind of took that role last year and didn't drop the ball.''
What happened against the A's, when both Guerra and Jansen made their spring debuts, will only add fuel to those trying to make the case for a change. Jansen pitched a perfect fifth inning with one strikeout and without a ball leaving the infield. Guerra came on for the seventh, walked two of his first three batters and struggled to find the strike zone throughout, but he got out of the inning scoreless when Josh Reddick swung at ball four -- a high, inside fastball on a full count -- and catching prospect Gorman Erickson threw out Eric Sogard trying to steal third, completing the inning-ending double play.
Had Reddick laid off that pitch, Guerra would have walked the bases loaded with one out.
"I was trying to do too much,'' Guerra said. "I know what I was doing wrong, and it's just a slight adjustment. With a guy on first, I was getting a little jumpy, a little too quick, instead of just worrying about the guy at the plate.''
Keep in mind, though, this was Guerra's first competitive pitching appearance since that implosion in Arizona last Sept. 27 -- in fairness, an implosion that already was well under way before he was even brought in from the bullpen. It is possible there still is a touch of shell shock, something a good closer can't carry around for 24 hours, much less six months.
It also is possible that Guerra hears, or will soon hear, Jansen's footsteps.
"I told both of them, I don't really know what the right decision is,'' Mattingly said. "But if both of them throw the ball the way they're capable of, it's not a problem. I think Kenley would like to be a closer at some point. But what they both have said, and what is great for me, is they just want to feel like if we get to the eighth inning with a lead, the game is over. That is exactly what I want to hear from them.''