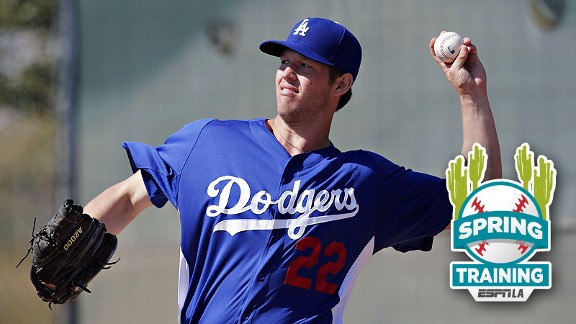 AP Photo/Jae C. Hong
Clayton Kershaw's spring training debut this morning had all the feel of a tennis match, an intrasquad game on a farflung field at Camelback Ranch with most of the spectators looking on in something close to complete silence. The Dodgers' Cactus League schedule doesn't start until Monday, meaning that in order to be properly lined up for his Opening Day start April 5 in San Diego, Kershaw had to mostly face a group of minor leaguers who hadn't faced live pitching at all, much less batted against the reigning National League Cy Young Award winner.
The predictable result, then, was that Kershaw pitched two quick innings, striking out five of the seven batters he faced. He gave up one hit, a weak dribbler through the right side of the infield by shortstop prospect Jake Lemmerman.
Kershaw threw 25 pitches, 16 of them in the first and nine in the second. He said only one of them was the changeup he has been trying to perfect the past few years.
"It's difficult to get the same feeling (of an actual Cactus League game),'' Kershaw said. "But at the same time, it's probably a good transition from (throwing) live batting practice, so this is the next step. Once I get into a game, I'll be pretty prepared for it. This probably wasn't ideal, but I got my work in and faced hitters."
Kershaw's second start, and his official Cactus League debut, will come Friday in Surprise against the Texas Rangers. The Dodgers open Cactus League play on Monday against the Chicago White Sox, with Chad Billingsley scheduled to start.
Because there was no umpire, balls and strikes were called by Matt Treanor, the Dodgers' newly signed backup catcher who has caught several of Kershaw's bullpens this spring and was catching him for the first time in a game setting.
"I would rather pitch in a big league game, but this was just the way the schedule fell,'' Kershaw said. "Most of those guys hadn't ... even stood in against a pitcher yet, so you can't take too much from the results. It's more about how you feel, and I felt good."